Sprint CEO inks first U.S. wireless deal with Cuba, apologizes for Che Guevara tweet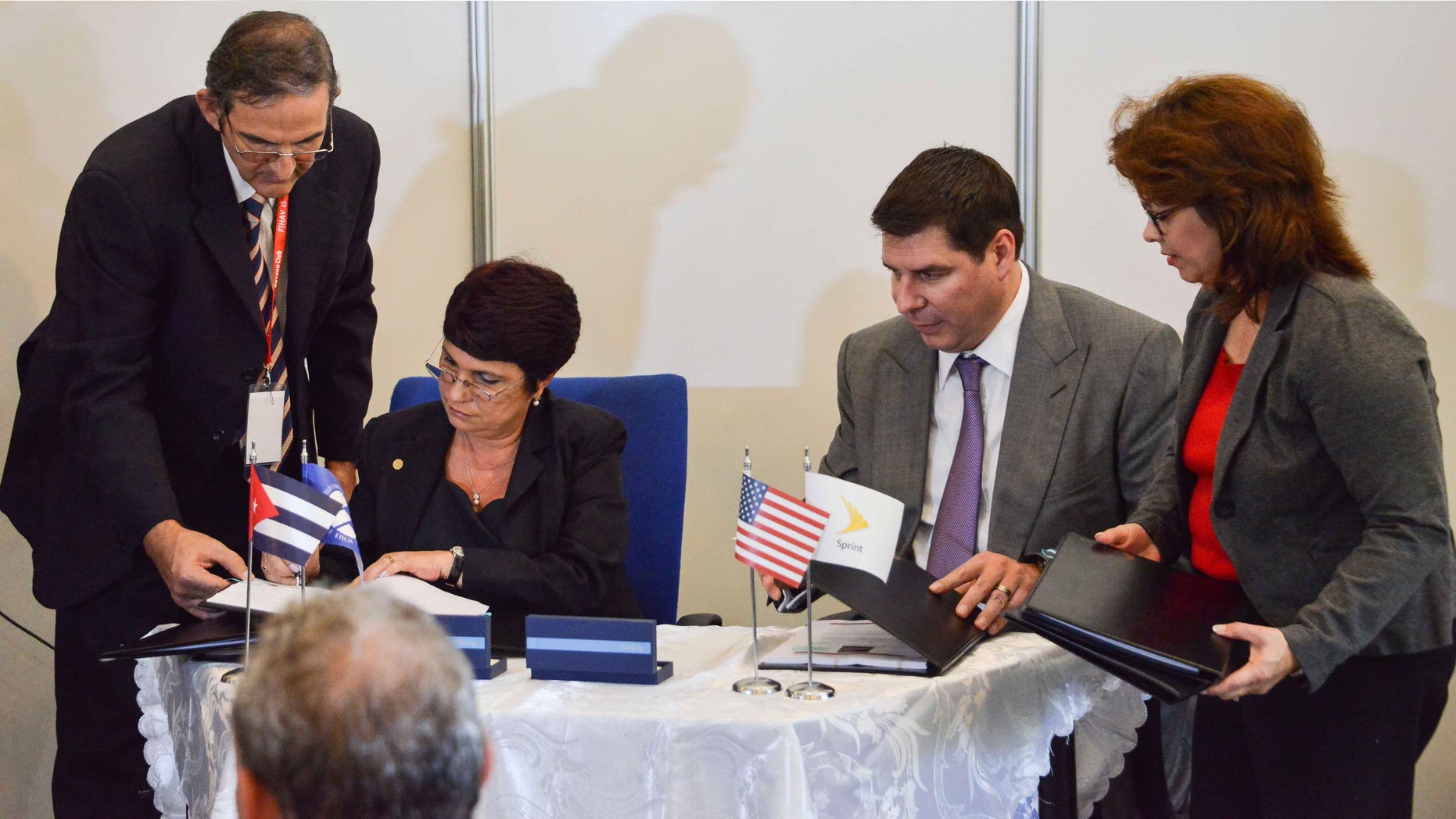 Wireless carrier giant Sprint became the first such U.S. company on Monday to sign a direct roaming deal with Cuba.
The deal, made official at a signing ceremony in Havana that featured Sprint CEO Marcelo Claure, will allow Sprint subscribers visiting Cuba to send and receive calls and text messages directly through the state company Etecsa, which has the monopoly for telecommunications service on the island.
"As the commercial relationship between the U.S. and Cuba continues to progress, it is expected that the number of travelers to Cuba will increase exponentially," said Claure in a statement emailed to the press.
"We want to make sure any Sprint customer traveling to Cuba can use their phone the same way as they do in the United States," he added.
The Sprint press release added: "Sprint is leading the way for U.S.-Cuba telecommunications."
Claure began his trip with a faux pas – he posted a tweet Sunday, just before 5 p.m., that said "Hola Cuba. Happy to be here in La Havana, Cuba."
But what sent blood boiling, especially among Cuban-Americans in the United States, was the photo that accompanied his tweet – the towering image of Marxist revolutionary and Fidel Castro ally Che Guevara.
While "Che," as the man born Ernesto Guevara in Argentina is known, was a cultural icon to many, he looms to many others as a ruthless figure under whom hundreds of Cubans who opposed Castro were executed without a trial upon Guevara's orders.
Guevara was killed in Bolivia, which is the Sprint CEO's native country, in 1967.
Hours after the tweet, Claure – who along with soccer star David Beckham is an owner of a franchise working to close a deal for a stadium in Miami – deleted it and apologized.
"I just deleted the picture I posted earlier while traveling in Cuba," Claure tweeted. "My sincere apologies if I offended anyone. No harm intended."
But before his controversial tweet, criticism from prominent Cuban-Americans reigned on Twitter.
Miami Dade County Commissioner Xavier Suarez tweeted: "Somebody tell the guy that Che was a doctrinaire and a cruel executioner; also that it's La Habana."
U.S. Carlos Curbelo, a Republican from Miami, tweeted: "I wonder what motivated you to tweet out the image of a serial murderer who destroyed so many lives and families."
Three years ago Dieter Zetsche, the head of Daimler AG's Mercedes unit, came under fire after he used the image of Guevara – with the Mercedes logo super-imposed on his beret – to draw a parallel between the revolutionary and, as Daimler later put it, "the revolution in automobility enabled by new technologies."
The company quickly stopped using the image and apologized after a very vocal condemnation by Cuban-Americans, who said it was outrageous of Daimler to highlight a revolutionary who played in central role in executions and the establishment of a regime that has oppressed the people of Cuba for decades.
Sprint's press release on the roaming deal noted that 3 million people from all over the world are expected to have visited Cuba by the end of the year, with the annual number growing to more than 5 million in the next decade.
Sprint is one of many U.S. companies that are beginning to do business in Cuba in a year that saw the launch of restored diplomatic relations between the two nations. The U.S. government has dramatically eased trade and travel restrictions to Cuba this year, and the Obama administration is pushing for the embargo – put in effect more than 50 years ago – to be lifted.
The agreement was announced Monday at the International Fair of Havana, which this year features about 900 companies, a third of them Cuban. About 70 countries are represented, including the United States, with some 20 firms.
Verizon in September began offering the first cellphone roaming service in Cuba through the firm's Pay-As-You-Go International travel option. But the service is through third companies, not directly through Etecsa.
With reporting by the Associated Press.
Like us on Facebook