Special prosecutor to help team in police killing of Philando Castile case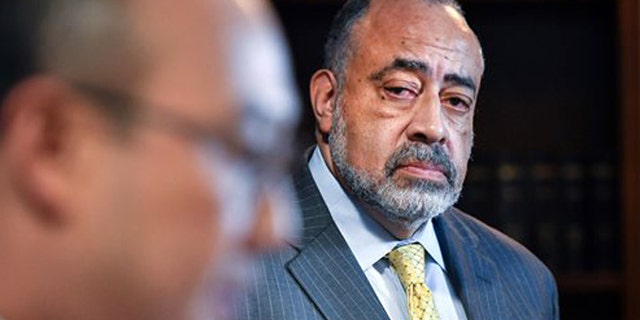 ST. PAUL, Minn. (AP) – A Minnesota prosecutor said Friday that he won't step aside but will add a special prosecutor to his team as he decides whether to charge a police officer in the fatal shooting of a black motorist, whose case gained national attention after the shooting's gruesome aftermath was broadcast live online.
Ramsey County Attorney John Choi said he was elected to uphold the law and intends to fulfill his duty when investigating the July 6 death of Philando Castile. But he said he will incorporate a special prosecutor into his team to enhance trust in the results.
Choi named former U.S. Department of Justice attorney Don Lewis, who is black, to that role. The former law school dean also helped investigate allegations of excessive force in the arrest of a black community activist in 2014 in Minneapolis. In that case, Lewis said the officers were justified.
"This independent perspective can only enhance the integrity and legitimacy of our decision in this case," Choi said. "This is ultimately what justice requires."
The Castile family's attorney, Glenda Hatchett, had asked for a special prosecutor but said the family was pleased with Choi's decision, calling it a "good step in the right direction." She said she listened to the prosecutor's reasoning and understood his decision.
"At the end of the day, what we're seeking is that justice be done," Hatchett said.
Lewis said he was proud to join the case. He said he agreed that those empowered to make prosecuting decisions must be accountable to the public, and he's committed to ensuring the process is fact-based, even-handed and transparent.
"My hope, whatever the outcome, is that my work in John's office will earn the trust and confidence ... of those, who today, expect the least and fear the worst from our criminal justice system," he said.
Castile, 32, was fatally shot during a traffic stop in suburban St. Paul. Video showing Castile slumped over in the driver's seat, his shirt soaked with blood, was streamed live on Facebook by his girlfriend, who said Castile was reaching for his wallet when he was shot by St. Anthony police officer Jeronimo Yanez.
An attorney for Yanez, who is Latino, has said the officer was reacting to the presence of a gun and not Castile's race. The attorney also has said that one reason Yanez pulled Castile over was because he thought Castile looked like a "possible match" for an armed robbery suspect.
The shooting is being investigated by the state Bureau of Criminal Apprehension. Choi said he hasn't been given the results of the investigation, and he had no details Friday on timing. But he noted that it took 13 weeks for the bureau to investigate another high-profile shooting involving police.
Choi also said he hasn't decided whether he'll send the case to the grand jury or if his office will make the charging decision. He said Lewis would play an integral role in making that decision.
Activists have urged Choi to avoid a grand jury, arguing that the panels rarely charge officers and the process is hidden from public view.
Protesters have demonstrated repeatedly since Castile's death, often outside the official governor's residence in St. Paul. Nearly 70 protesters were arrested this week as police attempted to clear the street in front of the residence.
Lewis, a St. Paul native, is a former law school dean at St. Paul's Hamline University. He has spent much of his career in private practice at a law firm he co-founded that focuses on defending corporate clients. He also has worked in the Justice Department's Civil Rights Division and for the U.S. Attorney's Office.
Lewis was hired by the city of Minneapolis last year to investigate allegations of excessive force in an activist's 2014 arrest. Lewis ultimately wrote that officers were justified in the way they handled the arrest. He also recently served as general counsel to an independent task force that was reviewing policies of the Archdiocese of St. Paul and Minneapolis related to clergy sexual abuse of minors.
The American Civil Liberties Union of Minnesota had also called for a special prosecutor to take over Castile's case. Teresa Nelson, the group's legal director, said Friday that it appears Lewis won't have any independent authority. She said the ACLU will continue to ask that a truly independent special prosecutor be appointed.