Spanish woman posts Instagram pic of smoking baby, igniting controversy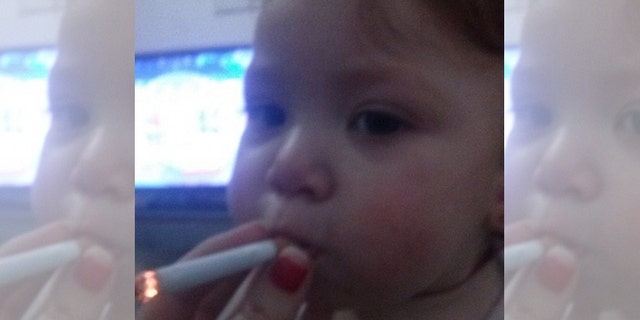 NEWYou can now listen to Fox News articles!
An Instagram user posted a picture of a baby apparently taking a drag from a cigarette along with the caption, "Already smoking at a year old—love you, little one, you're my f---ing life!"
The lit end of the cigarette is bright orange, lending the appearance that the baby is actively inhaling.
The image, posted on Jan. 5, has received nearly 40,000 comments—most of them angry—on the site; it has also received nearly 3,000 likes.
The woman's Instagram ID is lapelirrojah_delbarriooh, which means "redhead from the neighborhood."
She claims in her profile to be 18 years old and to live in Valencia, Spain. It isn't clear whether or not the child is her daughter, although she has posted other pictures of the baby.
The English-language Spanish publication, The Local, which first reported the post, quoted Antonio Nieto of Spain's Association of Pediatricians saying about the photo, "Tobacco is intrinsically even worse than heroin and to give it to a baby whose lungs are still developing ... Even children who are exposed to passive smoking are more likely to develop lung conditions such as asthma or chronic bronchitis."
Nieto added, "I think the police would definitely consider this to be child abuse."
Like us on Facebook
Follow us on Twitter & Instagram