Spanish paper tags PM in slush fund scandal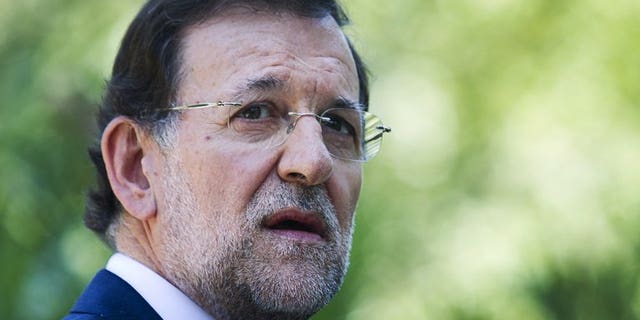 MADRID (AFP) – A leading Spanish newspaper Tuesday published a page from what it said were original, hand-written ledgers implicating Prime Minister Mariano Rajoy in a slush fund scandal before he came to power.
Spain's ruling Popular Party hotly repeated its denials of any knowledge of the accounts, photographs of which were published on the front and inside pages of El Mundo.
The affair has scandalised millions of Spaniards suffering in a double-dip recession, towering unemployment and painful budget cuts.
Leading daily El Pais in January said it had obtained photocopies of secret slush fund payments to top party officials, compiled in part by former Popular Party treasurer Luis Barcenas who is now behind bars while he faces corruption charges.
Until now, only the photocopies of the secret accounts had emerged.
El Mundo published for the first time what it said was the front and back of a single, original page from the ledger, helping to dispel doubts over whether it could have been fabricated.
El Mundo editor Pedro J Ramirez handed the document to the courts on Monday a few hours after he received it, the paper said, without revealing its source.
The excerpt purportedly showed extra payments to party officials including Rajoy when he was a minister in then prime minister Jose Maria Aznar's government in 1997, 1998 and 1999. They include, for example, two payments to Rajoy of 2.1 million pesetas (12,600 euros/$16,200) in 1998, El Mundo said.
The paper said the payments flouted a 1995 law barring such supplementary payments to members of the government.
"The Luis Barcenas originals published by El Mundo today pulverise the alibi used until now by the PP to deny the authenticity of its ex-treasurer's papers," El Mundo said.
The Popular Party stuck to its line that it knew nothing of the unofficial ledgers.
"The Popular Party reiterates that it does not know of the notes nor their content, and it does not in any way recognise them as the accounts of this political organisation," it said in a statement.
All payments to party officials were properly declared, the party added.
"As such, the PP denies making payments to people other than those included in their monthly salaries with the corresponding withholding tax and social security," it said.
Barcenas, the former treasurer, was remanded in custody June 27 as part of a broad probe into political fraud and corruption.
Judge Pablo Ruz ordered Barcenas detained over allegations including money laundering and tax fraud, saying the move was aimed at preventing him from fleeing and to preserve evidence.
In February, the court had already confiscated Barcenas's passport and banned him from leaving the country.
He is being investigated over tens of millions of euros (dollars) he allegedly stashed in Swiss bank accounts.
Rajoy has denied receiving undisclosed payments.