Spanish king apologizes for elephant hunting trip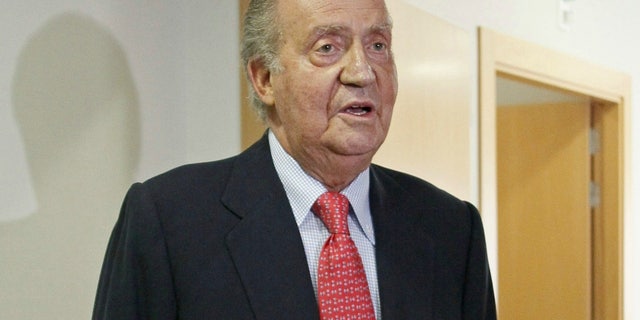 NEWYou can now listen to Fox News articles!
MADRID – Spain's king issued a rare apology Wednesday, saying it was clearly "a mistake" to have gone on an African elephant-hunting trip during his country's severe economic crisis.
In an unprecedented gesture, King Juan Carlos said he was "very sorry. I made a mistake. It won't happen again."
The 74-year-old monarch had come under scathing criticism this week after he went on an expensive safari to Botswana as both Spain and its citizens struggled amid an economic crisis that has worsened by the day. The trip -- which even the government had not known about -- came to light when the king fell Friday and ended up having to have hip replacement surgery.
The monarch made the apology before leaving a hospital in Madrid.
Looking a bit sheepish and using two crutches to walk, the king said he felt much better and was "looking forward to resuming my duties."
He thanked the San Jose Clinic staff for their help.
The elephant-hunting debacle came as interest rates for Spanish bonds have shot up in recent days, stoking fears it could be the next country in Europe to need a bailout. Spain is also struggling with 23 percent unemployment, the highest in the 17-nation eurozone. For many, the trip made the king's recent comments about how he couldn't sleep at night thinking about the country's unemployed ring hollow.
The royal family has been in the news a lot lately -- and not for the best reasons.
The king's son-in-law Inaki Urdangarin is a suspect in a corruption case, accused of using his position to embezzle several million euros in public contracts through a not-for-profit foundation. Then, over Easter, the king's 13-year-old grandson shot himself in the foot with a shotgun, even though by law in Spain you must be 14 to handle a gun.
Until now, Juan Carlos had always been a highly respected figure in Spain and almost never came in for criticism from either politicians or the media.