Spanish expert miners finally ready to reach missing toddler who fell down well 11 days ago
Spanish rescuers believe they are just hours away from reaching a two-year-old boy who fell into a narrow, 360-foot deep borehole eleven days ago.
The rescuers announced that after installing the final length of tubing to support a vertical shaft running parallel to the hole, they are ready to make the final push to reach the area where toddler Julen Rosello is believed to be.
SEARCH FOR SPANISH TODDLER WHO FELL DOWN BOREHOLE HITS MAJOR SETBACK
The final move will include a team of expert miners being lowered down into the shaft in a special capsule, The Local reported. They will attempt to dig using special pickaxes, drills and shovels in a bid to reach the boy.
The miners, who are part of a specialist brigade, will attempt to dig out a 12 foot gallery and support it with wooden beams in the area of the borehole where the toddler is thought to be, according to the report.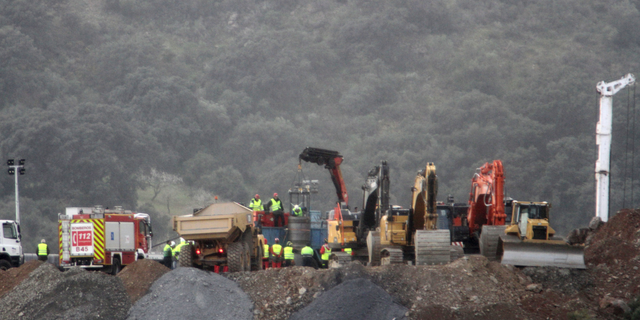 While the miners may reach the area where the boy is believed to be within hours, it could take up to 24 hours before they actually see the toddler.
"Those who are here risking their lives have faith that he is alive and that we will pull him out alive," Bernardo Molto, spokesman for the Civil Guard police force in Malaga province, told AFP. "If not, they wouldn't be working in these conditions."
SPANISH RESCUERS RUSH TO SAVE BOY, 2, WHO FELL DOWN WELL
This comes after the rescue mission suffered a major setback after it emerged the shaft built to lower the miners wasn't wide enough.
According to multiple reports, the borehole wasn't marked at the time of the incident, while regional authorities said the required permissions weren't acquired before it was dug.
On Tuesday, Spain's Civil Guard said it launched a probe into whether the borehole was drilled illegally.
CLICK HERE TO GET THE FOX NEWS APP
People across Spain have been gripped by the plight of the boy and his family. The rescue attempt has suffered agonizing delays because of the rocky terrain.
Fox News' Lucia Suarez and the Associated Press contributed to this report.