Spaniards, Catalan leader call for 'cease-fire' amid tensions over independence bid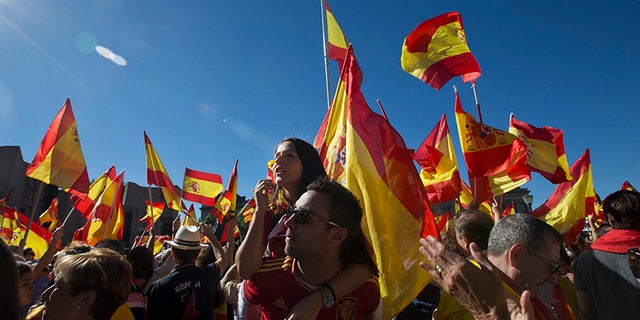 Thousands of Spaniards hit the streets Saturday morning rallying against Catalonia's independence push as one of the region's leaders called for a "cease-fire."
People dressed in white gathered in both the Spanish capital of Madrid and in the Catalan city of Barcelona under the slogan "Shall We Talk?" in a message to the country's politicians.
Plaza de Colon in central Madrid was turned into a sea of Spanish flags while in Barcelona organizers asked people to not bring any flags, neither Spanish nor Catalan, and to wear white clothes.
Elsewhere, Santi Vila, Catalonia's regional chief for business, pushed for "a new opportunity for dialogue" with Spanish authorities.
"We have to give it one more change, maybe the last chance, and perhaps the only way that can happen is to start with a cease-fire," he told Cadena SER Radio late Friday. "We can all calm down and give ourselves the opportunity to not take any decisions and see what channels we can open up to start a serene dialogue."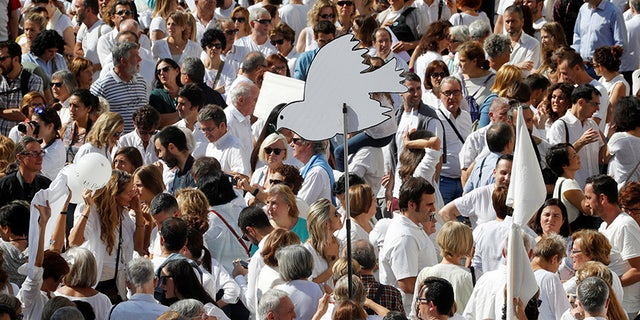 The calls for dialogue from within Catalonia's separatist camp come after some of the region's most important banks and businesses announced they were relocating their headquarters to ensure that the possible secession of the region wouldn't immediately knock them out of the European Union and its lucrative common market.
Vila said he is against Catalonia unilaterally declaring independence at this moment and wants to see a committee of experts from both sides be created to work toward a solution to the political crisis.
From the central government in Madrid, Vila said he would like to see Spanish authorities return powers to the region which them have assumed in recent weeks, including control of a large part of its finances.
It is unclear how widespread Vila's moderate position is inside the Catalan government, which is being pressured from separatist grassroots groups and the far-left party CUP to declare independence soon.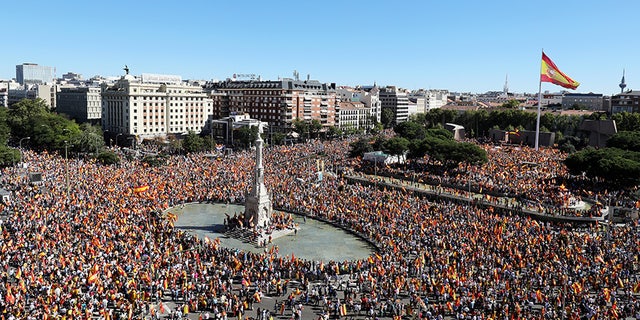 Separatists said they won the Oct. 1 referendum by a landslide, but Spain says the vote was illegal, invalid and unconstitutional. Less than half of the electorate cast ballots in the referendum which was marred by a brutal police crackdown.
The most recent regional elections and polls taken before the referendum showed that the region's 7.5 million residents were roughly split on the divisive issue.
Catalonia's top two banks, Caixbank and Banco Sabadell, as well as energy giant Gas Natural, hurriedly transferred their headquarters to other parts of Spain this week. Other leading Catalan companies have said they are considering similar moves.
Separatist lawmakers had planned to discuss a secession plan on Monday, but that session in the regional parliament was suspended by the Constitutional Court.
The focus has now shifted to Tuesday, when Catalan president Carles Puigdemont is set to address the regional parliament "to report on the current political situation" in Catalonia.
The Associated Press contributed to this report.