Spain's Socialist leader calls for third general election in less than four years after losing budget vote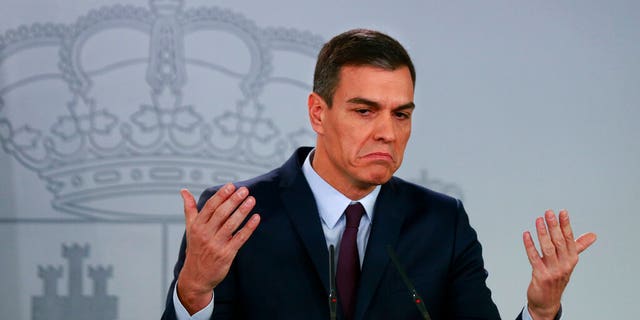 MADRID – Spain's prime minister on Friday called a snap general election for Apr. 28 amid mounting political turmoil, forcing Spanish voters to head to the polling booths for the third time in less than four years.
The latest election came after the minority Socialist government, led by Prime Minister Pedro Sanchez, lost a budget vote in Parliament.
SPAIN'S COURTS PUT TO TEST BY TRIAL OF CATALAN SEPARATIST
Sanchez has long faced calls to end his term early even by his own party, lost the vote after Catalan separatists voted together with the opposition and struck down his budget plan.
"Between doing nothing and continuing without a budget, or giving the chance for Spaniards to speak, Spain should continue looking ahead," Sanchez said in a televised appearance. "I have proposed to dissolve parliament and call elections for April 28th," he added at the end of a speech.
The prime minister came into power just last June after ousting his predecessor Mariano Rajoy by winning a no-confidence vote.
2 TAXI DRIVERS ARRESTED AMID RIDE-SHARING PROTESTS, CLASHES WITH POLICE IN MADRID
But Sanchez's delicate majority in the Parliament crumbled after he refused to accept talks over Catalonia's self-determination as part of the ongoing dialogue with separatists.
During the speech announcing the elections, the prime minister didn't mention Catalonia by name but said he's committed to dialogue about the country's regions.
It remains unclear what the early general election will produce as polls indicate the election unlikely to produce a clear winner, though the Socialist party led by Sanchez is currently leading in the polls.
CLICK HERE TO GET THE FOX NEWS APP
In addition, Vox, the far-right party in Spain, may complicate post-election coalition deliberations as it in recent years in gaining prominence and power in the regional assembly.