Spain: Valencia bans bull runs featuring flaming horns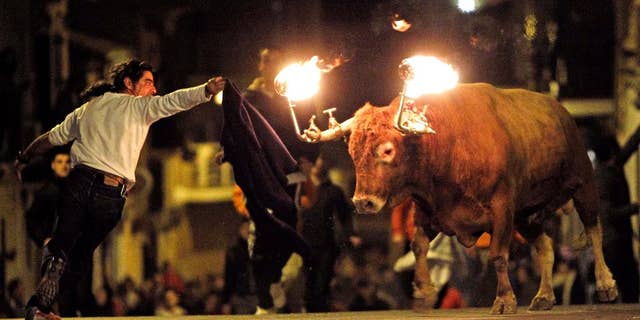 NEWYou can now listen to Fox News articles!
BARCELONA, Spain – The southern Mediterranean city of Valencia has banned a longtime tradition in which bulls are set loose on neighborhood streets with flaming balls of wax or fireworks affixed to their horns.
Mayor Joan Ribo cited cruelty to animals for the ban approved Friday.
The city council also cut funding for bull runs and bullfighting schools but did not move to ban bullfighting.
The ban comes a year after Ribo and his alliance including the far-left Podemos party took power and two days after lawmakers in the central Castile and Leon region prohibited spearing bulls to death at one of Spain's goriest spectacles held for centuries in the town of Tordesillas.
Valencia politicians with the conservative Popular Party called the ban on flaming bulls a violation of the city's cultural heritage.