Spain ghost airports: symbols of boom turned bust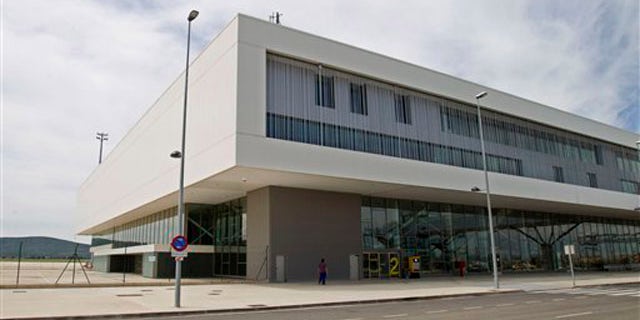 CIUDAD REAL, Spain – The glittering buildings rise up from Spain's arid central plain.
Draw closer and there's something eerie about Ciudad Real's Central Airport. There's hardly a plane in sight. Nobody's around. Cars can only be heard faintly in the distance.
This is one of Spain's "ghost airports" — huge projects often funded by taxpayer money that helped drive Spain's economic boom and now symbolize the wasteful spending that contributed to its spectacular bust.
Envisioned three years ago as a satellite airport for congested Madrid, Central boasts one of Europe's longest runways, yet there's hardly a skid-mark from the handful of weekly flights it now handles. Its vast and airy terminal, designed to handle 2.5 million passengers a year, echoes every sound.
Spain's downturn has played its role in Central's woes, but critics say it was never a viable airport from the beginning — a pork-barrel project too far from the capital to serve any real purpose.
With Spain struggling to emerge from an economic downturn that has saddled it with a euro-zone high unemployment rate of 21 percent, principally due to the collapse of its oversized construction sector, Central stands as a cautionary tale for a Spain adjusting to leaner times.
But signs abound that Spain has not fully learned the lessons of its profligate spending. Spain recently announced a high-speed rail link to the sparsely populated northwest region of Galicia, a plan many economists see as an extravagance. Bridge and highway projects are plowing forward in the face of criticism that Spain just can't afford them.
"We had great hopes for Central, we believed in it, dreamt about it, we thought it was going to be the region's salvation," said Ciudad Real taxi driver Enrique Buendia, who can hardly remember the last time he got a run to the airport.
"But, when you mix politicians and business it's bad news."
Indeed, it's an unhealthy mix of politics and business that critics blame for white elephants such as the airport in Ciudad Real, a city of 74,000 people. Spain has a history of pouring public money into dodgy projects to fuel the careers of ambitious politicians and local entrepreneurs.
The airports and other projects illustrate how regional governments and government-linked savings banks drove themselves into a debt swamp from which it will take years to emerge.
Analysts see regional government debt as being one of the main drags on Spain's bid to slash its deficit from 11.2 percent of GDP in 2009 to within the European Union limit of 3 percent by 2013.
Central is busy compared to two-year-old Huesca airport in northern Spain, whose 30 employees won't see a commercial flight for some six months. Its restaurant is busy, but with local people and because it serves good meals.
Then there's Castellon on the airport-abundant eastern coast. Costing some euro150 million, it opened in March and hasn't yet seen a plane. It most likely won't for a while as the national airport authority ponders whether to grant it a license.
Castellon was built on the promise of future theme parks that have yet to materialize, making its future look bleak.
At its entrance there is to be a 24-meter (79 foot) statue to Carlos Fabra, the provincial president of Castellon who commissioned the project, and has been investigated several times for corruption.
"We have substituted our obsession with bricks and house building with an obsession for highways, high speed trains and airports, but it's the same rubbish," said Fernando Fernandez, a macroeconomics Professor at IE Business School in Madrid.
"It's like a drug addict trying detox," he said. "The economy has been growing through construction for the last 10 years and that creates all sorts of bad habits."
Leon, Socialist Prime Minister Jose Luis Rodriguez Zapatero's hometown, has turned a military airport into a commercial one but it has only a handful of flights a week.
The city of 200,000 inhabitants is already reachable by a modern highway and now is promised a high-speed rail stop as part of the new bullet-train to Galicia.
Meanwhile, southern Murcia has just built a second airport, half an hour away from its perfectly good old one. Now there's talk of Toledo, an hour away from Ciudad Real, building its own, too.
Much of the problem stems from Spain's territorial makeup of 17 semiautonomous regions.
"This is a country of fiefdoms, like the Middle Ages, you know 'I want my airport ... my convention center and my high-speed train,'" said Stephen Matlin, managing director of the Matlin Associates investment banking firm in Madrid.
"One or two airports is not the problem. It's when you take the hundreds of thousands of projects, a billion dollars here, a billion dollars there, pretty soon you're talking about a lot of money."
Central, about 235 kilometers (150 miles) south of Madrid, was heavily funded by the regionally-controlled Caja Castilla La Mancha savings bank that ended up being the first of Spain's troubled savings banks to be bailed out by Spain's Central Bank last year.
The airport, which cost some euro1.1 billion, was to have a bullet-train stop to whisk people to Madrid but money and passengers ran dry.
Critics say at that distance from Madrid, the rail link would never have worked anyway. Madrid, meanwhile, resolved its congestion by building a swanky new terminal. Now in receivership, Central's looking for a buyer.
At the cafeteria, a handful of the airport's 90 employees staff have coffee. A cleaner polishes the floor over and over. Panels flash flights to and from New York, Stockholm and other distant locations, but it's only because the technicians are checking that they work properly.
"The airport was a total rip-off," said Eva Acosta, 38, a publicity agency employee. "Ciudad Real is too small for what they built. It was a get-rich-quick scam between the politicians and the business set."
Spain's two main political parties defend public infrastructure projects and blame each other for the excesses.
Rafael Simancas, the governing Socialist Party's spokesman for infrastructure, argues that Spain for the last 20 years has dedicated more on infrastructure than most of its wealthy neighbors purely because it was coming from so far behind after the Franco dictatorship that ended in 1978.
He said the government has trimmed public work spending by 40 percent because of the crisis but that Spain would continue to put emphasis on infrastructure because it improves competitiveness.
Andres Ayala, his counterpart for the conservative opposition Popular Party, tipped to form government after elections next year, says the problem lies with financing, and that with more private investment there would be fewer problems.
Both argue that when most of the questionable projects were drawn up nobody could have foreseen the magnitude of the crisis to come.
But analysts say that unless Spain learns fast and begins investing in a new economic model by pouring billions into education and research and development, it could be headed for disaster.
"What we're doing is maintaining the old economic structure of the country," said Fernandez. "Instead of investing in new skills for people ... we spend money on keeping them busy to give the appearance of bring the unemployment figures down."
___
Associated Press writer Harold Heckle contributed to this story from Madrid.