South Sudan peace talks to open in Ethiopia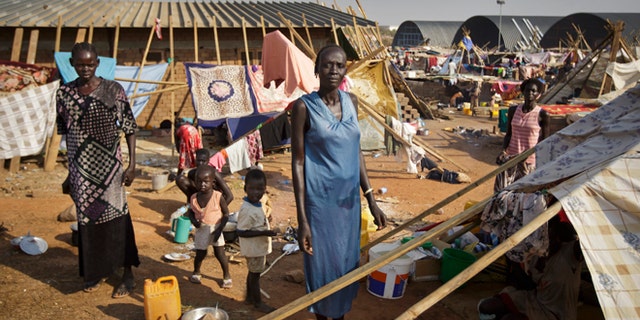 JUBA, South Sudan – Negotiators from South Sudan's two warring sides are scheduled to arrive in Ethiopia for peace talks late Wednesday, as the top United Nations official in the country urged both forces to bring the country "back from the brink."
Fighting continued Wednesday in South Sudan's city of Bor -- a gateway city to the capital, Juba -- a government official said. Bor is just 75 miles from Juba.
Bor, the capital of Jonglei state, is the current center of ethnically-based violence stemming from the political rivalry between President Salva Kiir and ousted Vice President Riek Machar, the rebel leader accused of mounting a failed coup attempt.
More than 1,000 people have been killed in the violence, says the U.N.
Machar said on Tuesday that he would send his forces from Bor on to Juba, but that threat was downplayed by Hilde Johnson, the U.N. representative in South Sudan, who said: "I think we need to take quotations with pinches of salt at this point of time."
Pro-Machar forces in Bor appear to be taking defensive positions, Johnson said. The Bor fighting has newly displaced about 60,000 people, the country's latest humanitarian crisis.
"On Jan. 1, the country is at a fork in the road, but it can still be saved from further major escalation of violence," said Johnson, who urged Kiir and Machar to use the new talks to move toward peace. "They can still pull the country back from the brink."
The U.N. is "gravely concerned" about mounting evidence of gross violations of international human rights law, including the extra-judicial killings of civilians and captured soldiers, it said on Tuesday. The U.N.'s estimate of 1,000 dead was given days ago and the number of fatalities is believed to be higher as a result of the new fighting around the country, including in Bor.
South Sudan Foreign Minister Barnaba Marial Benjamin labeled Bor a war zone on Wednesday.
Government troops pulled out of parts of Bor because they were concerned about having to kill the "young boys" who fill the ranks of the rebels, said one analyst.
South Sudan's military "was told to withdraw," Edmund Yakani, the executive director of the Juba-based group Community Empowerment for Progress, said, citing the accounts of contacts in Bor. "They communicated that these are young boys and we are killing them like nothing."
Government troops in Bor face renegade forces allied with a pro-Machar tribal militia known as the "White Army," so called because its young members of the Nuer tribe smear their faces with ash to keep insects away.
Johnson said that 240 U.N. police are scheduled to arrive in South Sudan later Wednesday who can help police refugee camps. The U.N. says up to 180,000 people have been internally displaced by the violence, including about 68,000 sheltering at U.N. camps.
"Even with the tremendous efforts made by health partners, sanitation conditions are still inadequate largely due to the large number of people sheltering in United Nations bases which have insufficient space to house these numbers," said Abdi Aden Mohammed, the World Health Organization's representative in South Sudan.
Although Kiir insists the fighting was sparked by a coup attempt mounted by soldiers loyal to Machar, this account has been disputed by some officials of the ruling party who say violence broke out when presidential guards from Kiir's majority Dinka tribe tried to disarm guards from the Nuer ethnic group of Machar.
South Sudan has been plagued by ethnic tension and a power struggle within the ruling party that escalated after Kiir dismissed Machar as his vice president in July. Machar has criticized Kiir as a dictator and says he will contest the 2015 presidential election.
South Sudan's government, the U.N. and other analysts say the dispute is political at its heart, but has since taken on ethnic dimensions. The fighting has displaced up to 180,000 people, according to the U.N.