South Sudan government troops accused of stealing relief food, killing at least 7 people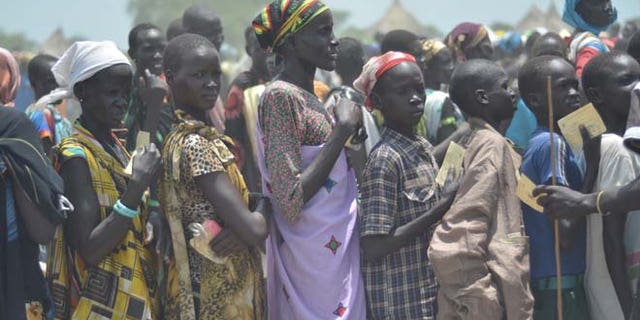 JUBA, South Sudan – Soldiers believed to be with the South Sudanese army and allied militia stole relief food and killed seven people in an attack on a rebel-held part of Unity state, a local official said Thursday.
Monday's attack on the village of Dablual forced some 35,000 civilians to flee into the bush and humanitarian workers to evacuate, said John Riek, the head of a local relief commission.
Col. Philip Aguer, the South Sudanese military spokesman, said he was unaware of the attack.
Dablual had 30,900 residents before the attack and more than 5,000 displaced people who had fled earlier attacks during a government offensive which began in late April, according to Riek.
"It's serious. They have burned the area completely," he said. "People are going to die because of hunger."
Guiomar Pau Sole, spokesperson for the U.N.'s Office for Coordination of Humanitarian Affairs, said aid workers were relocated because of insecurity in the area.
On Saturday, the World Food Programme dropped 270 metric tons of food in Dablual, the first delivery of food to the area in two months.
Human rights researchers have accused the government of stealing food and cattle, burning villages, and killing and raping civilians throughout its campaign in Unity state. Dablual had been attacked twice before.
Resident James Gatmai Yoah, standing in the shell of his home that he said was burned in a government attack in June, told The Associated Press on Saturday that he watched as armored vehicles ran down civilians, killing them. He said he had been eating leaves and grass to survive.
South Sudan has been at war since a December 2013 rebellion by a former deputy president.
The latest attack comes amid heavy pressure from the international community for the warring sides to reach an agreement to end the war by Aug. 17.