South Sudan claims its troops have taken two towns from rebels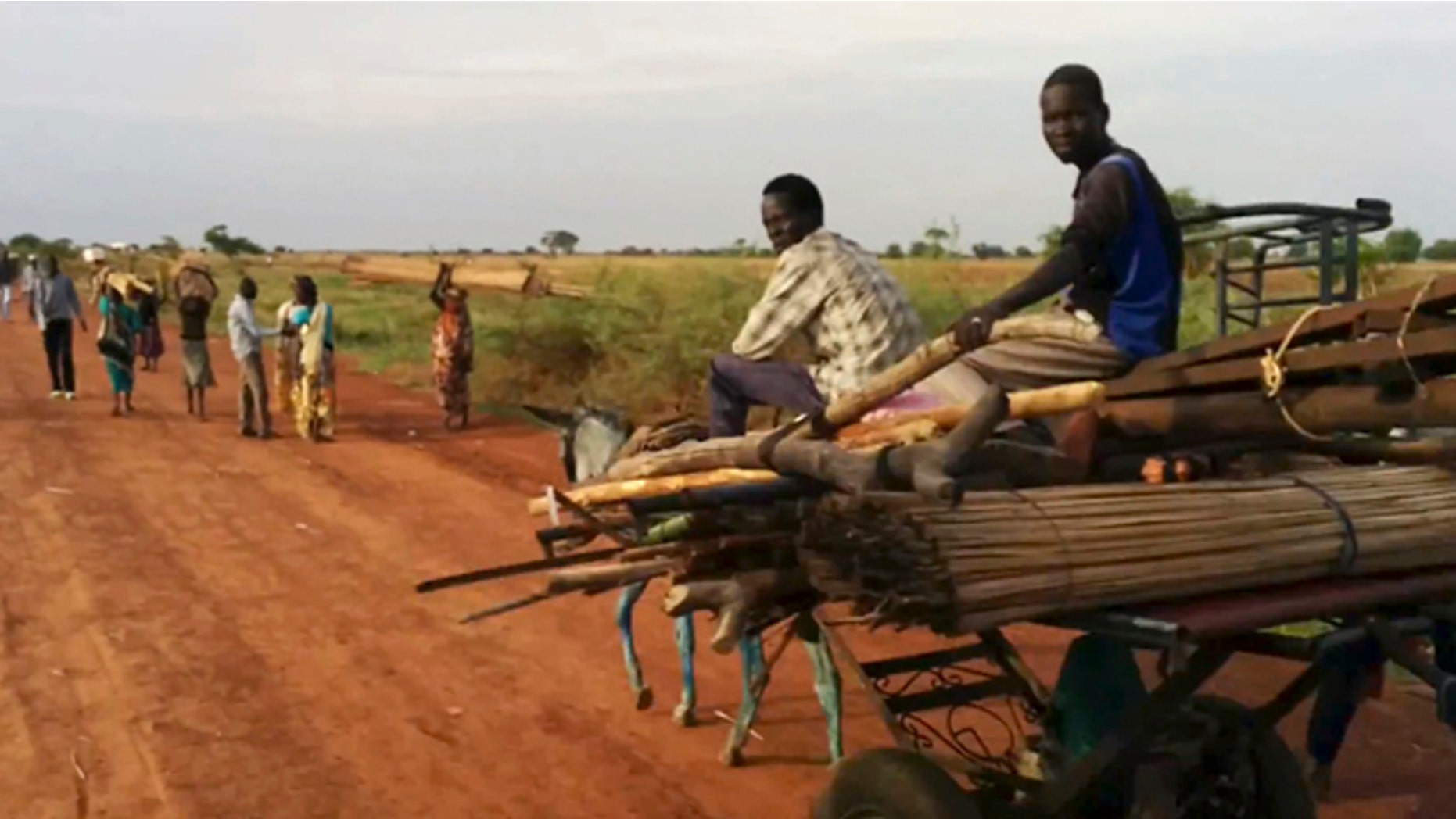 ADDIS ABABA, Ethiopia – Government troops captured a rebel stronghold and took back control of another town, sending rebels fleeing toward the Ethiopian border, a South Sudanese military spokesman said Monday. Fighting around the important oil town, however, was still being reported.
The government offensive comes just days after South Sudanese President Salva Kiir told U.S. Secretary of State John Kerry that he was ready to hold peace talks with the rebel leader, former Vice President Riek Machar. But a spokesman for Machar's negotiating team in Ethiopia told The Associated Press on Monday that Machar first wants a "program" that includes a timeline for the formation of a transitional government as well as its composition and structure.
"The Americans are pushing us to go to Juba and form an interim government. We cannot go there without an agreement on a program first. We need to know who will be in that transitional government, in what capacity, for how long and issues like that," said the spokesman, Yohanis Musa Pouk.
Government troops have taken over the rebel base of Nasir, in the Upper Nile state and re-captured the capital of the oil-producing Unity state, Bentiu, from rebel control, Col. Philip Aguer said.
Bentiu was taken after a day-long exchange of fire Sunday with an unknown number of casualties, Aguer said. However, a security official in South Sudan who insisted on anonymity said reports indicated fighting around Bentiu is still ongoing.
Nasir was the rebel headquarters from where the rebels were mobilizing to attack the town of Malakal, Aguer said. He said Machar and his troops are now somewhere near the Ethiopian border. Pouk said that Machar is still inside South Sudan but he added that Machar will meet with Ethiopian Prime Minister Hailemariam Desalegn "very soon."
Kerry met with Kiir on Friday in South Sudan's capital Juba and afterward announced during a press briefing that Kiir had expressed willingness to meet with Machar. Kiir then flew to the Kenyan capital of Nairobi where he met with Kenyan President Uhuru Kenyatta and Ugandan President Yoweri Museveni and announced that he is willing to hold the talks with Machar to discuss how to end the conflict in South Sudan.
South Sudan has been rocked by violence since December, when Kiir accused Machar of staging a coup. Thousands of people are believed to have been killed and 1 million people have fled their homes due to the conflict. A peace deal signed in January has failed. With few residents tending crops, U.N. officials say the country faces a severe risk of famine in the months ahead.
The violence is increasingly taking on an ethnic dimension between Kiir's Dinka community and Machar's Nuer community.
Rebel fighters from the Nuer ethnic group took control of Bentiu in mid-April and slaughtered non-Nuer civilians in the town mosque, the hospital and on streets, leaving "piles and piles" of bodies,  the U.N.'s top aid official, Toby Lanzer said. The U.N. Security Council expressed "horror" at the massacre.
Kiir fired the country's top military officer last month, Chief of Staff Gen. James Hoth Mai, further isolating the Nuer group politically. Mai is Nuer and his command position, which he held since 2009, was frequently cited as an example of the ethnic diversity of the government led by Kiir, an ethnic Dinka.
Machar has said he wants to see the exit of Kiir, whom he accuses of acting like a dictator.
South Sudan peacefully broke away from Sudan in 2011 after a decades-long fight for independence. Relations between the two countries have been strained over the sharing of oil revenue and border demarcations since the split and both countries have suffered from instability and sporadic violence.