South Korean leader says lurid corruption scandal 'all my fault'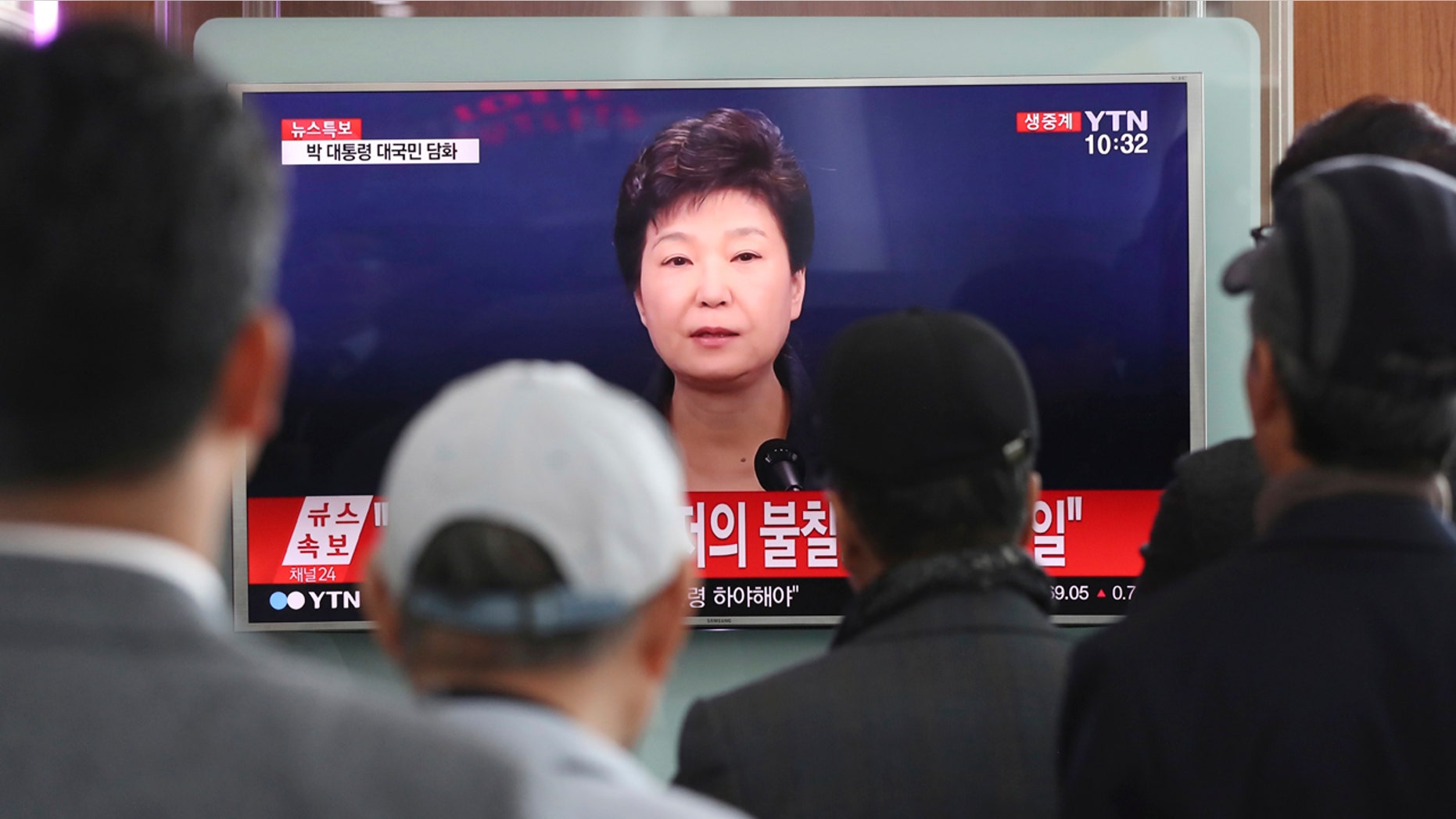 SEOUL, South Korea – South Korean President Park Geun-hye took sole blame Friday for a "heartbreaking" scandal that threatens her government and vowed she will accept a direct investigation into her actions amid rising suspicion that she allowed a mysterious confidante to manipulate power from the shadows.
In a high-stakes address to the nation, Park, her voice shaking, said the scandal is "all my fault and mistake." In an extraordinary moment, she also denied media speculation here that she had been controlled by a religious cult.
"I feel a huge responsibility (for the scandal) deep in my heart," Park said. "It is all my fault and mistake."
Her comments come at what may well prove to be the crucial moment of her presidency. As calls for her to resign or be directly investigated rise, Park is attempting to show the contrition and sense of responsibility that South Koreans demand while re-establishing her tarnished credibility. She is in the fourth year of a single five-year term and, even before this scandal, faced criticism over the government's response to a ferry sinking that killed more than 300 and a perceived aloof nature.
One national poll had her approval rating at 5 percent, the lowest for any modern South Korean leader.
"Anyone found by the current investigation to have done something wrong must be held responsible for what they have done, and I am also ready to face any responsibility," Park said. "If necessary, I'm determined to let prosecutors investigate me and accept an investigation by an independent counsel too."
Last week Park surprised many when she acknowledged that she had relied on Choi Soon-sil, the daughter of a cult leader and Park mentor, for help editing presidential speeches and other undefined "public relations" issues.
Anger has exploded in the days since, with media reports claiming that the influence Choi had went much deeper. There are reports that Choi reviewed and made recommendations on government policy papers, helped choose presidential aides and even picked out Park's wardrobe.
Thousands have protested, Park has fired many of her senior aides and is replacing her prime minister.
Choi has been formally arrested, and opposition lawmakers have demanded that prosecutors also investigate Park. The president's nominee for prime minister, the country's No. 2 job, has suggested that Park can be directly investigated, despite her immunity from prosecution.
Choi, 60, was arrested Thursday as Seoul Central District Court accepted a prosecutors' request to issue a warrant citing alleged abuse of authority and fraud, according to court spokesman Shin Jae-hwan. Choi is being held in a detention center, Shin said.
In addition to the allegations Choi was a behind-the-scenes influence on Park, reports have alleged she pushed businesses to donate millions of dollars to two foundations that she controlled.
Choi is the first person formally arrested in connection with the scandal. On Wednesday night, prosecutors detained one of Park's former senior presidential secretaries after summoning him for alleged involvement in extracting $70 million in donations. Prosecutors have 48 hours to determine whether to request an arrest warrant for Ahn Jong-beom or release him.
Park has fired eight presidential secretaries and nominated three new top Cabinet officials including the prime minister in an effort to regain public confidence. Opposition parties have described Park's personnel reshuffles as a tactic to divert attention from the scandal.
Park may survive what has become the worse patch of an already rocky four years in office. But if her choice for prime minister is rejected and she is forced to name someone chosen by the opposition, it will hamstring her authority and may end her ability to govern.
On Thursday, Park's choice for prime minister, Kim Byong-joon, told a news conference that he thinks it's possible to have Park investigated, though he said the procedures and methods of any probe of the head of state must be carefully handled.