South Africa's Tutu said to be 'jovial as usual' in hospital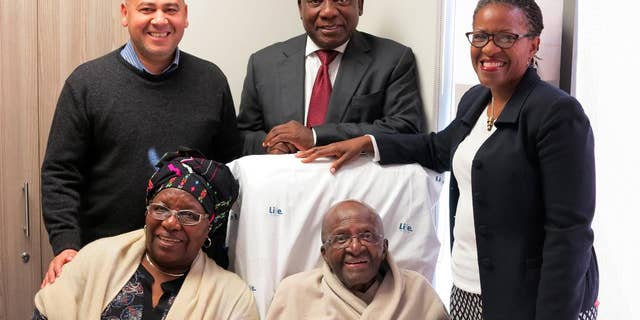 NEWYou can now listen to Fox News articles!
JOHANNESBURG – South Africa's deputy president says he visited Nobel laureate Desmond Tutu in a hospital and found the retired archbishop to be "jovial as usual" while being treated for an infection.
Deputy President Cyril Ramaphosa says the 84-year-old Tutu was in "high spirits" and discussed subjects including education and politics.
Tutu says on Twitter that he told Ramaphosa "he looked beautiful considering his difficult job."
Tutu was readmitted to a Cape Town hospital Saturday, days after he left following three weeks of treatment. He has been treated for infections resulting from past treatment for prostate cancer.
One of his daughters, Rev. Mpho A. Tutu van Furth, said Tuesday that he is "healing very well."
Desmond Tutu was an outspoken opponent of apartheid, South Africa's former system of white minority rule.