South African cops probe allegations that 150 miners were beaten in custody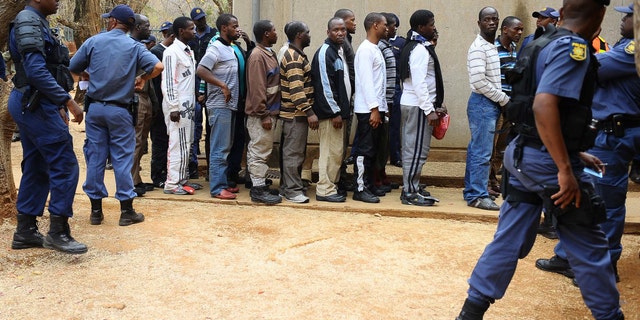 JOHANNESBURG – South Africa's police are investigating each of the 34 killings of striking mine workers and are also looking into allegations that more than 150 arrested miners have been beaten in police custody, the police directorate of complaints spokesman said Monday.
The news came as President Jacob Zuma was grilled by the African National Congress national executive committee over the police shootings that wounded another 78 strikers at the Lonmin PLC platinum mine on Aug. 16.
In the fallout from the killings, the bitter mine strike has strengthened. Only 13 percent of workers reported for duty Monday -- down from 30 percent on Friday and 50 percent on Saturday. Lonmin has suffered a serious hit to its share price and has said it probably cannot meet debt payments, due next month, because of the strike.
On a rocky outcrop near the mine, about 2,000 strikers and community members gathered on Monday, dancing, singing and repeating their demands for a minimum mining monthly wage of R12,500, up from R5,500 ($1,560 from $690).
At a nearby town, the 256 miners arrested at the scene of the shootings were brought to court to face charges from murder to public violence. Families protested outside the court, calling for their release.
The police killings of the 34 strikers -- the worst display of state violence since apartheid ended in 1994 -- have shocked the nation and damaged the reputation of Zuma and his governing ANC, already fractured over Zuma's bid for re-election as party president in December. As party president, he would be guaranteed a second term as president of South Africa.
Zuma's enemies say the police shootings highlight what they say is the party's disregard for the poor. The ANC has been unable to stem massive unemployment. Many in South Africa have inadequate housing, lack electricity and access to adequate education and health services.
Spokesman Moses Dlamini said the Independent Police Complaints Directorate has opened dockets investigating 34 murders and 32 attempted murders in the police shootings.
Zuma is reported to have given the order for police to end an illegal and violent strike that began Aug. 10 and had killed 10 people before the shootings, including two police officers hacked to death by strikers who also burned alive two mine security guards.
Police Commissioner Riah Phiyega has faced criticism for telling her officers that they "did nothing wrong." She has said she gave the order to use live ammunition, arguing the police acted in self-defense after they were shot at.
No police officers were hurt when a group of miners charged at them, one seen holding a pistol and others armed with homemade clubs and spears. Police said they recovered six handguns from the scene of the shootings northwest of Johannesburg.
Dlamini refused to comment on local news reports that autopsies show most of the miners were shot in the back as they tried to flee the barrage of police gunfire, though he said the autopsies form part of the directorate's investigations.
He said more than 150 arrested miners have laid complaints that they have been beaten in police custody to get them to implicate their colleagues in the killings of the two police officers.
The miners charge that they were "assaulted with police batons and fists and kicked around, slapped around, some sustained visible injuries to their heads and bodies," Dlamini told The Associated Press.
The police investigation is separate from a judicial commission of inquiry that Zuma has appointed under a retired Supreme Court judge given wide-ranging powers to investigate whether police used appropriate force. The commission will also probe the actions of government officials and Lonmin.