South Africa holds 'day of prayer' to honor Mandela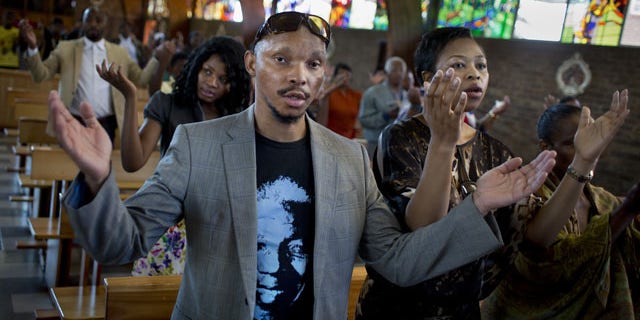 Across South Africa, the faithful filled churches, synagogues, and mosques for a national day of prayer and reflection Sunday before a week of events culminating in the funeral of Nelson Mandela, who died Thursday at the age of 95.
The country's current President, Jacob Zuma, attended services at the Bryanston Methodist Church in Johannesburg after urging South Africans to attend communal events to celebrate the life of the anti-apartheid fighter who became South Africa's first black president in 1994 after spending 27 years in prison.
"We should, while mourning also sing at the top of our voices, dance and do whatever we want to do to celebrate the life of this outstanding revolutionary," Zuma said.
Informal vigils were being held Sunday morning outside Mandela's last home in the Houghton neighborhood of Johannesburg, as well as outside his former home in the Soweto township
A state funeral for Mandela will take place December 15 in Qunu, the town where he spent most of his youth. However, South Africa is also preparing for a memorial service that will take place Tuesday at the FNB Stadium in Johannesburg, the place where Mandela made his first speech after his release from prison in 1990, as well as the site of the 2010 soccer World Cup final, where the man affectionately known as "Madiba" made his last public appearance.
The memorial service will be attended by, among other dignitaries, President Obama and his two immediate predecessors, George W. Bush and Bill Clinton. Former Secretary of State Hillary Clinton will also attend Tuesday's memorial service, as will a congressional delegation expected to include members of the Congressional Black Caucus. Rep. Elijah Cummins, D-Md., confirmed that he was part of the delegation late Saturday.
In addition to the service in Johannesburg, official memorial services will also be held in all of South Africa's provinces and regions over the next week. Mandela's body will lie in state from Wednesday till Friday at the Union Buildings in Pretoria, the capital.
The state airline, South African Airways, has laid on special charter flights to ferry invited dignitaries to the funeral.
The South African government has announced that a special sitting of the two houses of parliament - the National Assembly and the National Council of Provinces - will be held on Monday to pay tribute to Mandela.
The Associated Press contributed to this report