Sounds of war rattle South Sudan capital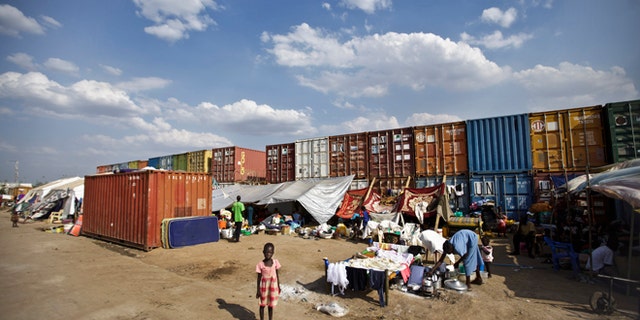 JUBA, South Sudan – The sounds of war rattled the capital of South Sudan on Wednesday after violence broke out inside the military over a pay dispute, and five soldiers were killed, officials said.
Truckloads of soldiers were moved into Juba after the fighting began around 9 a.m., an eerie reminder of the inter-military fighting that broke out in the same barracks in December that eventually pushed the country into its current state of near-civil war.
A spokesman for the South Sudan military, Brig. Gen. Malaak Ayuen, said soldiers who had not been paid recently went to a commander to demand their salary. The dispute escalated and five troops were killed and several wounded, Ayuen said. "Many" soldiers have been arrested, he said.
"This is purely an issue of salaries. It is not political and will not spread," Ayuen said. "Soldiers have not been paid since January, why I don't know, and went to the commander seeking answers."
Ayuen said that the sounds of large booms that rattled the city were the result of a weapons depot being set on fire. A large cloud of black smoke rose above Juba. Soldiers were quickly ferried around the city on the backs of truck and shops closed out of fear.
The city remains tense from when massive violence broke out in mid-December after a dispute among the presidential guards. That dispute soon pitted backers of the president against the former vice president, who now commands the loyalty of a large number of rebel troops who control significant parts of the country. Thousands of people have died and hundreds of thousands pushed out of their homes in the nearly three months of violence.
While Ayuen said that Wednesday's dispute was not political, he alluded to lingering feelings of mistrust among the country's many ethnic groups inside the military.
"The soldiers are not happy with the way the government has handled the situation. They have been told to forgive and welcome soldiers that have killed their colleagues only a couple months ago. Now they are back among their ranks. It is too early to forget this," Ayuen said.
Rebel forces appeared ready to take advantage of the mayhem. An opposition leader taking part in negotiations in Ethiopia said that mutineers in the army had pledged their allegiance to the former vice president, Riek Machar.
Meanwhile, the regional bloc of countries known as IGAD said it hopes to deploy a protection and stabilization force in South Sudan.
Seyoum Mesfin, who is leading South Sudan peace talks for IGAD, said Wednesday that envoys are consulting with regional leaders, the African Union, the U.N. and other partners about the proposed force, and a meeting is expected in two weeks to discuss it. Ethiopia, Djibouti, Kenya, Rwanda and Burundi have expressed interest in sending troops to South Sudan, Seyoum said.
The proposed force would be small and cost effective but would have a big deterrent role, he said, adding that the African Union and U.N. need to approve the deployment.
One aim of the deployment would be to deny any foreign interventions, he said. Already Uganda has troops inside South Sudan in support of the Juba government, raising regional concerns. The U.S. has said it wants Uganda to withdraw from South Sudan.