Sonia Sotomayor tells graduates to learn from 'uh-oh' and 'aha' moments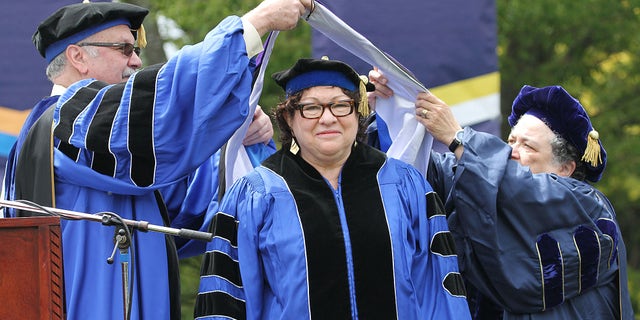 NEWYou can now listen to Fox News articles!
SOUTH KINGSTOWN, R.I. (AP) – U.S. Supreme Court Justice Sonia Sotomayor has advised the class of 2016 at the University of Rhode Island to hold onto the memories they've created and learn from their mistakes.
Sotomayor spoke at the Sunday commencement ceremony at the public university's campus in South Kingstown. She also received an honorary degree.
Sotomayor spoke of the importance of what she called "aha" and "uh-oh" moments. She said these moments provide life-long lessons in asking for help to reach important goals.
Sotomayor is the first Hispanic and third woman to serve on the Supreme Court.
More than 3,300 students received their degrees from the school on Sunday. URI says 57 percent of the 2016 graduates are women and 43 percent are men.