Some European Markets Gain, While Markets in Asia Sink After U.S. Credit Downgrade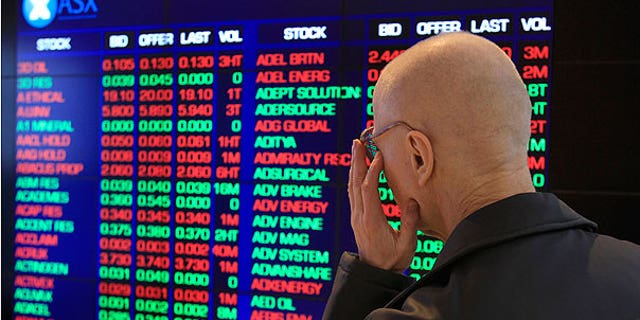 LONDON – The European Central Bank's risky decision to fight the continent's debt crisis by buying Spanish and Italian bonds on Monday started pushing down the soaring interest yields threatening those countries with financial disaster.
But some analysts warned Monday that the move transfers significant risk to the balance sheet of an institution long reluctant to move beyond its traditional role controlling inflation. Others warned that a half-hearted intervention would not stamp out the crisis.
The radical expansion of the ECB's bond-buying program cements the bank's unwilling role as the institution with primary responsibility for solving's Europe 21-month-old financial crisis.
The ECB had been reluctant to become directly involved in averting the crisis, instead pushing politicians to get their countries' finances under control and build up their own crisis management system.
But a recent spike in investor concern about Italy and Spain's high debt levels and lackluster economic growth caught the 17-country eurozone just as parliaments broke up for the summer recess, delaying the implementation of crucial changes to the currency union's bailout fund.
Those changes, once implemented, would allow the European Financial Stability Facility to buy government bonds on the open markets, just as the ECB has done.
The French parliament won't be able to approve the expansion of the European bailout fund before September 6, France's Finance Minister Francois Baroin said.
Asked whether parliament could be convened immediately instead, Baroin said on Europe-1 radio that: "For a democratic process with such heavy stakes, we cannot go any faster."
Left as the last line of defense, the ECB decided late Sunday decided to "actively implement" its bond-buying program, a crisis tools that it had so far not used for Italy and Spain.
Some economists said the bank risked only a temporary improvement if it hands off to the EFSF, whose resources are limited by eurozone leaders.
"You need somebody who is known to have unlimited firepower, and that's what the ECB has," said Paul De Grauwe, an economist at the Catholic University of Leuven. "There is no limit to the amount that the ECB can intervene. And once people see the central bank is ready to do this, they won't need to do it. It's an insurance mechanism."
But economist Michael Schubert at Commerzbank said the bank not only risked losses on the bonds, but its reputation as an inflation fighting monetary authority. "If people do not believe or are convinced that the ECB is only responsible for monetary policy, but is in effect supporting governments, then this could be a severe loss in reputation and the conseq would be that inflation expecations would go up."
He thinks the bank will hand off to the EFSF as soon as possible, and that governments could increase the amount of money available to the EFSF if needed.
Analysts at the Royal Bank of Scotland said they expected the central bank to buy an average of euro2.5 billion worth of Spanish and Italian bonds each day, equivalent to euro600 billion a year.
Buying bonds supports their prices, taking pressure off the issuing countries during an investor sell-off.
In early trading Monday, the yield, or interest rate, on Italy's 10-year bonds was down 0.55 percentage point to 5.45 percent while the equivalent rate on Spain's tumbled 0.71 percentage point to 5.34 percent.
Italy's and Spain's borrowing costs rose to above 6 percent last week -- rates that would strain the finances of eurozone's third and fourth largest economies. The goal is to prevent them from an interest rate spiral like the ones that forced Ireland, Greece and Portugal to seek bailout loans from the eurozone and the International Monetary Fund.
Until now, the ECB had invested just under euro80 billion ($113 billion) in Greek, Irish and Portuguese bonds.
That appeared to cushion the feared fallout from Standard & Poor's decision last Friday to downgrade U.S. long-term debt.
In contrast to the bond-buying programs of the U.S. Federal Reserve and the Bank of England, the ECB "sterilizes" its bond purchases by withdrawing funds from the financial system so that the overall amount of money in circulation remains the same, warding off any inflationary effects.
The ECB's decision to take a more active role came after both Italy and Spain announced new measures to cut spending and boost growth. Italian Prime Minister Silvio Berlusconi Friday night said that his country would work to balance its budget by 2013, a year earlier than planned.
Spanish Finance Minister Elena Salgado on Sunday announced new reforms aimed at bringing in an extra euro5 billion to help achieve its goal of cutting its deficit to 6 percent of GDP this year.