Somalia demands Kenyan troops leave southern port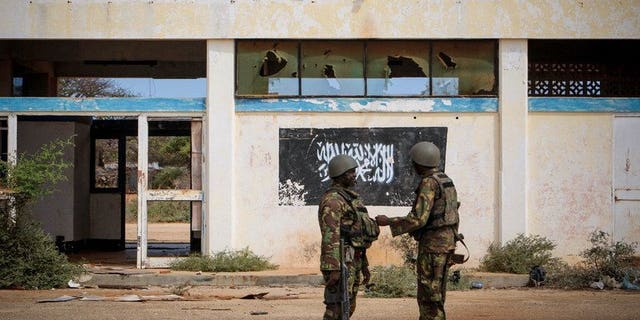 MOGADISHU (AFP) – Somalia's government has demanded that Kenyan troops stationed in the volatile port city of Kismayo as part of an African Union force be replaced, accusing them of backing a militia force opposing Mogadishu.
Calling for a "more neutral African Union force", Somalia's information ministry accused the troops of supporting militia soldiers "in violation of their mandate", as well as attacking civilians and arresting a top government army commander.
Several rival factions are battling for control of Kismayo, a strategic and economic hub in the southern Jubaland region: these include former Islamist chief Ahmed Madobe, who in May appointed himself "president" of Jubaland, and Bare Hirale, a former Somali defence minister who also leads a powerful militia.
The Kenyan troops, who invaded Somalia in 2011, ousting Al-Qaeda-linked Shebab fighters from Kismayo before joining the 17,700-strong AU force known as AMISOM, back Madobe's control of the region.
But since Mogadishu's weak central government does not recognise the title of "president" or the region of Jubaland, the Kenyan troops are seen as opposing the central government they are mandated -- and funded by the UN and European Union -- to support.
Abdishakur Ali Mire, Somali deputy information minister, called for an "immediate replacement" of Kenyan troops there with AU forces from other nations.
"There was a targeted offensive against civilians and the SNA (Somali National Army) command centre in Kismayo by the AMISOM Section Two forces," Mire said in a statement released late Sunday.
"Kenyan forces arrested and mistreated" the government army commander in Kismayo, he added, calling for his immediate release.
AMISOM's sector two, the Kismayo region, is manned by more than 4,000 Kenyan troops, as well as a small force from Sierra Leone.
Restive Jubaland lies in the far south of Somalia and borders both Kenya and Ethiopia. Control is split between multiple forces including clan militia, Kenyan and Ethiopian soldiers and the Shebab.
Rich in farmland, and possessing a lucrative charcoal industry, the region is also viewed by Kenya as a key buffer zone to protect its borders.
Kismayo has changed hands more than a dozen times since the collapse of central government in 1991.