Social media erupts after report of U.S. investigating Venezuela's Cabello for drug ties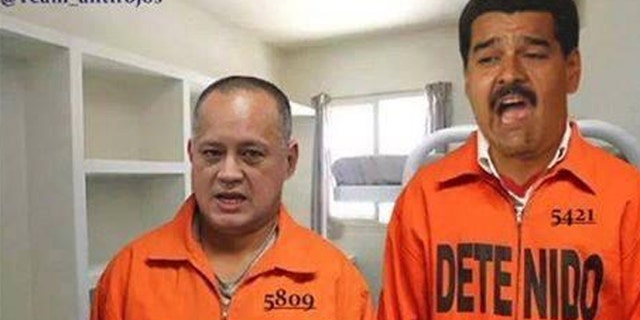 Social media erupted with mocking and angry comments, photos and memes at about Venezuelan National Assembly President Diosdado Cabello following the announcement that the second most powerful man in the South American nation was under investigation in the United States for drug trafficking ties.
Memes featuring Cabello's face on the body of infamous Colombian drug lord Pablo Escobar, of Cabello having money raining down on him while he drives a sports car and one of him on an Old West-style wanted poster have made the rounds on Twitter and other social media sites as the Venezuelan government attempts to brush off the allegations as a U.S. plot to destabilize the country.
According to the Wall Street Journal, federal prosecutors in New York and Miami along with an elite unit of the Drug Enforcement Administration are piecing together a case against Cabello and other members of the government of President Nicolás Maduro. The majority of the evidence has come from former cocaine traffickers and informants once close to top Venezuelan officials and defectors from the Venezuelan military.
"There is extensive evidence to justify that he is one of the heads, if not the head, of the cartel," a Justice Department official told the Wall Street Journal about Cabello. "He certainly is a main target."
The news of the investigation comes on the heels of the release of a book by Spanish Emili J. Blasco that alleges that the Venezuelan government under late leader Hugo Chávez and now with Cabello supported drug traffickers.
Blasco's sources most of his information from interviews with Leamsy Salazar, who was once Cabello's head of security and a former member of Chavez's security detail. Salazar deserted the military earlier this year and made statements to U.S. media about Cabello's alleged drug trafficking ties.
Salazar said that after Chávez's death, Cabello became the organizer of the Venezuelan government's drug trafficking and criminal activities. During one alleged mission, Salazar said he was present when Cabello inspected four go-fast boats that were loaded with several tons of cocaine and days later was present when a number of suitcases loaded with stacks of $100 dollar bills was delivered to Venezuela's tax agency, where Cabello had an office.
The investigation in the U.S. was followed by a report in the Spanish newspaper ABC that Spain is becoming a major drop-off point for drugs coming from Venezuela and that the European nation – particularly the cities of Barcelona and Valencia – has become the major distribution center for drugs in Europe.
Like us on Facebook
Follow us on Twitter & Instagram