Smaller Turnout at Second Round of Moscow Protests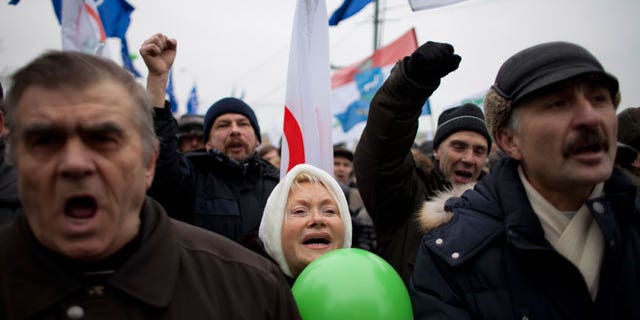 MOSCOW-- About 1,000 demonstrators demanding a rerun of parliamentary elections gathered Saturday in central Moscow for a second weekend of protests against Russia's fraud-tainted vote, a comparatively small crowd that underlined the challenge to the opposition of keeping up public pressure on authorities.
The turnout was far below the nationwide protests last Saturday in at least 60 cities, including a dramatic gathering of tens of thousands in Moscow, the largest show of public anger in post-Soviet Russia. Demonstrations took place in at least two other cities on Saturday.
The protests follow the Dec. 4 national parliamentary elections, in which the ruling United Russia party lost a significant share of its seats in the State Duma, though it retained a narrow majority. Opposition forces claim even that was unearned, supported by reports from local and international observers of widespread vote-count irregularities and outright fraud.
Grigory Yavlinsky, the leader of the Yabloko party that failed to make it into the parliament and staged Saturday's rally, said it had filed hundreds of appeals to protest the vote results. "We need a new election law and new, honest elections," he told the rally at Bolotnaya Square, on an island in the Moscow River a few hundred yards from the Kremlin.
The combination of fraud and United Russia's declining fortunes galvanized opposition groups that have been repressed under Putin's 12 years of rule. After several nights of unauthorized protests that police broke up harshly, Moscow authorities showed unprecedented largesse in granting permission to hold several large protests last weekend.
Prime Minister Vladimir Putin this week effectively rejected calls to rerun the election, declaring that its result reflected the people's will. The new Duma is to have its opening session on Wednesday.
President Dmitry Medvedev, who is stepping aside to allow Putin to run for a new term in the Kremlin, warned Saturday against attempts to "delegitimize" the government, saying it will mean the collapse of the state. Like Putin earlier this week, he promised to modernize Russia's political system, adding that the "old model has exhausted itself."
Medvedev on Friday had a phone call with President Barack Obama, who raised questions about the disputed election and welcomed his promise to investigate whether fraud had occurred, the White House said.
Taking a defiant note at a meeting with United Russia activists Saturday, Medvedev said he had told Obama Russia doesn't care about the U.S. assessment of the vote and that the U.S. criticism was unacceptable.
"When we hear lectures in the worst traditions of the Cold War, it causes indignation," Medvedev said.
Unimpressed by the government's vague promises of liberalization, the opposition aims to keep up the pressure with a series of protests, and is placing much hope on a Moscow rally Dec. 24 that organizers believe will attract at least 50,000 people.
Protesters on Saturday repeated demands of last weekend's protest, calling for a repeat election, the punishment of those responsible for vote fraud and the release of political prisoners. Speakers angrily dismissed Putin's comment this week in which he claimed protest leaders were acting at the West's behest and sarcastically said he thought the white ribbons many protesters wear as an emblem were condoms.
"He was calling us condoms financed by the State Department, crooks that are trying to steal the country, and I think that this is the reaction that shows he was scared," said Ilya Ponomarev of the Left Front opposition movement
"We are speaking here against vote fraud, which is a political HIV," Yabloko leader Sergei Mitrokhin said, citing an inscription Yabloko printed on white ribbons handed out to protesters.
Russian news media also reported about 500 people held a protest in the Siberian city of Irkutsk, several hundred gathered in Yekaterinburg in the Urals and about 100 tried for an unauthorized rally in Samara, where four demonstrators were arrested.
The wave of protest comes less than three months before Putin is to run for a new term as president, the post he held in 2000-2008, and indicates his return to the Kremlin may be less easy than initially assumed for the man who has dominated Russia over the past dozen years.
On Saturday, the Communist Party nominated its leader Gennady Zyuganov to run for president. Zyuganov forced Boris Yeltsin into a run-off in the 1996 presidential election and although the Communists' support has declined since then, he could attract a protest vote against Putin.