SKorea, Australia play to goalless draw at East Asian Cup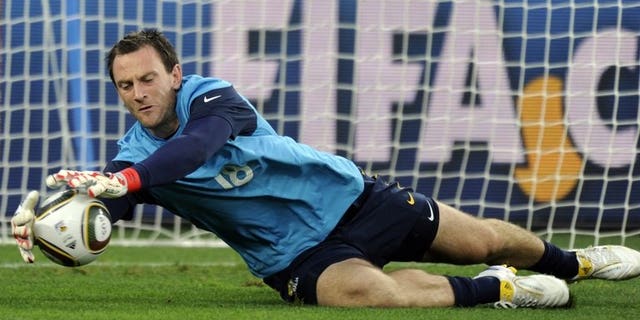 SEOUL (AFP) – Host South Korea wasted a slew of goal chances as they played Australia to a scoreless draw at the East Asian Cup match here on Saturday.
South Korea dominated the Socceroos but had nothing to show for their efforts, as Australian goalkeeper Eugene Galekovic helped ensure a goalless encounter in the opening men's match of the regional tournament.
South Korea were the aggressors from the kick-off, while Australia failed to generate much offence, having to fend off merciless assaults from the hosts.
Galekovic stood his ground in the face of the South Korean attack, making one tough save after another.
Midfielder Yun Il-Lok himself had three opportunities to put the home side on the score board, including a thunderous mid-range strike in the 18th minute which was punched out by Galekovic.
About five minutes before the break, Kim Dong-Sub tried to redirect a Kim Jin-Su free kick with a diving header, only to be foiled by Galekovic.
Australia tried to turn the tide in the second half, but Dario Vidosic saw his shot go wide in the 54th.
After a quiet stretch, the South Koreans went on the attack once more with substitute Yeom Ki-Hun charging right into the Australian zone but shooting into Galekovic at the hour mark.
In the 71st, Ruben Zadkovic jumped on a loose ball but the shot bounced right into the hands of South Korean keeper Jung Sung-Ryong.
Five minutes later, Yeom had another shot deflected by Jade North and go off the near post.
Earlier on Saturday, Japan beat China 2-0 to open the women's competition. Kozue Ando and Emi Nakajima were the goal scorers for the two-time defending East Asian Cup champs, who entered the tournament ranked third in the world.
Host South Korea will face North Korea in Seoul on Sunday in a match that has added a political dimension to the tournament following a tense year between the two neighbours.
The North Korean women have made their first trip to Seoul since the 2005 East Asian Cup, as government officials from both sides are trying to reduce tension on their divided peninsula.