Skeptics suggest China's economic slump deeper than Beijing admits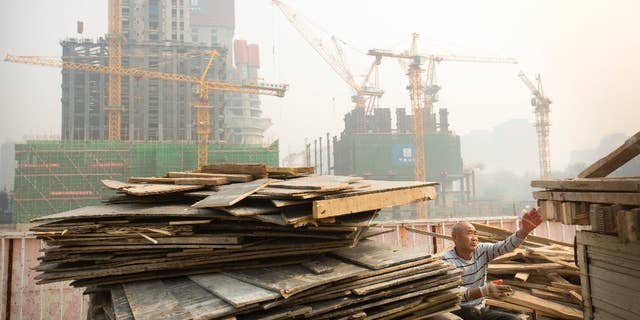 BEIJING – China's official data show economic growth slowing but skeptics say the downturn is much deeper than Beijing admits.
The latest data Tuesday showed growth in the world's No. 2 economy eased to a six-year low of 6.9 percent in the third quarter after expanding 7 percent in each of the previous two quarters. Some economists, however, say this year's true rate might be as low as 4 percent.
The doubters say while China faces the same challenges as other developing countries in keeping track of fast-changing industries, its data discrepancies are more extreme. Some see a conscious effort to avoid the political cost of admitting the slump is more severe.
"I think here is a certain amount of pressure on the statistics bureau to publish a figure that is reasonably in line with the government's target," said Julian Evans-Pritchard, China economist for Capital Economics.
China's statistics agency says the figures are accurate.
Economic growth and whether Beijing can hit this year's growth target of "about 7 percent" are especially sensitive for the ruling Communist Party, which relies on rising living standards to help sustain public acceptance of its monopoly on power.
China's growth is a subject of intense interest among foreign companies that covet its 1.4 billion potential consumers. An unrealistically rosy view could hamper their ability to plan for economic changes. Any move by Beijing to revise growth downward might dent confidence abroad by reducing China's contribution to an already lackluster global recovery.
Most of China's 5-year-old growth decline is self-imposed as communist leaders try to nurture self-sustaining growth based on domestic consumption and services instead of exports and investment. Ruling party leaders have affirmed their commitment to a "new normal" of slower stable growth but need to shore up public confidence as wrenching changes occur.
This week's figures suggest that rebalancing is gaining traction. Growth in factory output slowed in September while retail sales accelerated. Still, some analysts asked how service industries such as banking and tourism could do as well as official data showed.
Complicating the picture are experts who believe China's economy is significantly bigger than the government reports.
They blame a data collection system created in 1993, when China was just emerging as a manufacturing power and had few technology and service businesses.
"Beijing is measuring a 2015 economy using a 20-year-old framework," said Daniel H. Rosen and Beibei Bao of Rhodium Group, a research firm, in a report in September.
The government didn't collect data on thriving service industries until 2005. Once it did that, the official size of China's economy abruptly increased by 17 percent, propelling it past Italy as the sixth-largest.
In their report, Rosen and Bao said Chinese data still fail to reflect the true value of real estate, retailing and other service industries, as well as of research and development.
Rosen and Bao suggest China's antiquated system might hide the fact that its economy, due to overtake the United States as No. 1 in the next decade, is at least $1 trillion bigger than reported.
However, a bigger total for the size of the economy might make China's growth even slower, because it would need to generate far more new economic activity to keep expanding at the same percentage rate.
The ruling party says its growth target announced at the start of each year is for use in making budgets, not an official goal. But the public has come to take it as a promise to keep growth above that level.
Doubts emerged after 2012, when the previous decade's double-digit annual growth had cooled enough that the public began to question whether it might dip below the annual target. That led to suggestions officials might alter numbers to hit their target.
Skeptics note China's growth figures are unusually stable for an emerging economy, often changing by less than one percentage point from one quarter to the next.
"I think the consensus is that the data are being smoothed," said economist Wei Li at Commonwealth Bank of Australia. "That means in good times, the official number is below the real growth rate, and in bad or sensitive times, then the official number is better than the real growth rate."
A key dispute is over an accounting technique called a deflator, a number that is subtracted from the reported amounts for economic activity to remove inflation so the final figure reflects the real amount of goods and services produced.
Some economists suggest the National Bureau of Statistics fails to factor out all price changes, leading to an inflated growth figure.
A better option would be for China to ditch growth targets and focus on reform, "where they are actually making a lot of progress," said Evans-Pritchard.
"The problem they face now is that if they do acknowledge the real weakness in the economy, confidence will take a hit," he said. "They have created this dilemma for themselves."