Six killed in Iraq violence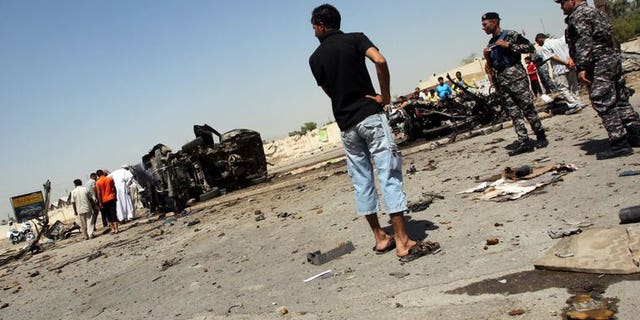 NEWYou can now listen to Fox News articles!
BAGHDAD (AFP) – Attacks in Iraq killed at least six people including a local council member on Sunday, officials said, the latest in a surge of violence plaguing the country.
Security forces have in recent weeks carried out some of their biggest operations since the 2011 withdrawal of US forces, but analysts and diplomats have said authorities have not addressed the root causes of the unrest.
Prime Minister Nuri al-Maliki has nevertheless vowed to press on with the campaign in a bid to combat Iraq's worst violence since 2008.
Two roadside bombs targeted a bus stop and a supermarket in two separate areas of Baghdad, killing at least four people and wounding 13, most of them government employees.
And the body of a local council member who was kidnapped the day before was found south of Kirkuk, a disputed northern city.
He was shot in the head and his body bore signs of torture.
And in Muqdadiyah, north of Baghdad, a roadside bomb killed a teacher while he was driving.
The teacher, a Sunni Arab, had fled a Shiite-majority area of Muqdadiyah in 2006 and returned just two months ago.
Iraq was racked by a bloody Sunni-Shiite sectarian conflict that peaked in 2006-2007, when tens of thousands of people were killed and many more forced to abandon their homes under threat of death.
Lingering tensions between Sunnis and Shiites have been inflamed by persistent violence in Iraq and the civil war in neighbouring Syria, and there are growing fears that the country is slipping back towards all-out sectarian conflict.
Violence has markedly increased this year, attributed by analysts and diplomats to anger in the Sunni Arab community over its alleged targeting and ill treatment at the hands of Shiite-led authorities.
Attacks have killed more than 3,490 people since the beginning of 2013, according to figures compiled by AFP.