Sitting in limbo: Decision to leave EU brings UK uncertainty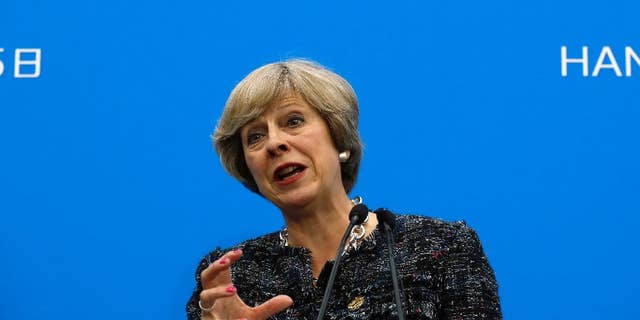 NEWYou can now listen to Fox News articles!
LONDON – Since the U.K. voted to leave the European Union, Prime Minister Theresa May has said it again and again: "Brexit means Brexit."
Despite the mantra, though, it's far from clear what a British exit from the bloc will look like. Almost three months after the vote, Britons and Europeans still don't know when the departure will happen or how it will affect their work, travel, pocketbooks and prospects.
"There are lots of players, a lack of clarity — we don't (even) have an agreed process," said Simon Usherwood, a reader in politics at the University of Surrey. "It's a sorry state of affairs."
For now, Britain remains a member of the bloc, though an increasingly detached one, as the other 27 countries start to move on. EU leaders meet Friday in Slovakia — without the U.K. — to try to steer a way past challenges including violent extremism, the refugee crisis and economic woes.
EU chief Jean-Claude Juncker acknowledged Wednesday that Britain's departure was a blow.
"The world is getting bigger. And we are getting smaller," he said. But he insisted "the European project continues," and urged the U.K. to make its formal request to leave as quickly as possible.
However, Britain controls when divorce proceedings will begin — and it's in no hurry. May has said she won't invoke Article 50 of the EU constitution, the trigger for the exit process, until sometime in 2017. Negotiations are then supposed to take two years, but could conceivably be extended.
David Davis, who heads Britain's new Department for Exiting the European Union, said Tuesday that "British people want us to do this properly. They don't necessarily want us to do it incredibly fast."
But British sluggishness has been criticized by Parliament's Foreign Affairs Committee, which accused the government of former Prime Minister David Cameron of "gross negligence" for failing to draw up firm Brexit plans before the June 23 referendum.
The thorniest issue in divorce talks will likely be Britain's desire to limit immigration from other EU nations while retaining access to the bloc's single market of 500 million people.
EU officials say that's impossible. In a speech to the European Parliament Wednesday, European Commission President Juncker said "the free movement of workers is as much a common European value as our fight against discrimination and racism."
That apparent impasse means uncertainty for some 3 million EU citizens in Britain and more than 1 million British nationals in other EU countries.
Last week, Home Secretary Amber Rudd was grilled by lawmakers about what Brexit would mean for work and travel. Will Britons need to apply online and pay a fee to go on vacation in Europe? Maybe, she said. Will EU citizens need work permits to take jobs in Britain? Possibly.
Will any EU citizens who live in Britain now have to leave? The government won't answer that either.
Ministers' vague insistence that everything will work out fine frustrates British opponents of leaving the EU.
They point to a spate of assaults on Eastern Europeans — including a fatal attack on a Polish man by a gang of youths — as evidence that the nationalism stirred by the anti-EU campaign has unleashed ugly forces in British society.
Some analysts also say pro-Brexit politicians have overestimated Britain's negotiating clout. Usherwood said EU leaders are likely to take a tough line "to avoid a contagion effect" in which other EU nations ask for special deals with the bloc.
He thinks that increases the chances of a "hard Brexit," in which Britain crashes out of the EU without a deal and falls back on World Trade Organization rules. That would bring EU tariffs on U.K. goods and a deep shock to the British economy.
Some of the more hard-line free-marketeers in May's Conservative government favor the "hard Brexit" scenario, believing it will make the economy more competitive. And some British businesspeople think it's preferable to being bound in EU red tape. Vacuum cleaner magnate James Dyson, one of Britain's most successful entrepreneurs, said the government should leave the EU immediately, then work out trade deals with the bloc and others.
Dyson told the Daily Telegraph that EU nations "are going to want to have a free trade deal with us more than the other way round," because Europe exports more to Britain than it imports.
To the surprise of many economists, the British economy has remained relatively robust since the referendum. Retail sales, house prices and industrial production have all held up, and inflation and unemployment have stayed low — though official data released so far only includes about a month of post-referendum activity.
Jonathan Portes of the National Institute of Economic and Social Research said that "the longer the uncertainty goes on the more damage that does, particularly to investment and business confidence."
"My best guess is that there will be a prolonged period of uncertainty, and that will not lead the economy off the cliff but will lead to greater and greater cumulative damage," he said. "But that could be wrong — in either direction."
___
Raf Casert and Lorne Cook in Brussels contributed to this story.
___
Follow Jill Lawless on Twitter at http://Twitter.com/JillLawless