Sister of American woman missing in Peru fears kidnapping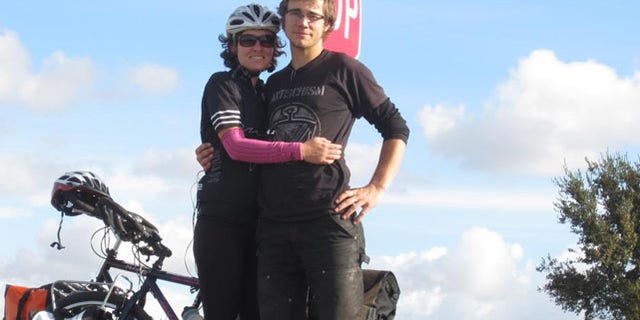 The sister of an American woman missing in Peru said it's "highly unusual" for her to drop off the grid and fears Jamie Neal and her boyfriend may have been kidnapped.
Neal and Garrett Hand, both from the San Francisco area, left for Peru in December and were last heard from on Jan. 25, according to the woman's sister, Jennifer Neal.
"There's a part of me that thinks someone has taken them," Neal, of West Sacramento, Calif., told FoxNews.com on Monday.
The U.S. State Department is assisting in the search for the couple, who reportedly disappeared in January during a biking trip in the country.
Jennifer Neal said her sister has stopped posting photos of that trip on Facebook and said Hand's cellphone is turned off.
"It goes straight to voicemail," she said. "It's not like them to be out of touch for this long."
The couple was last seen on Jan. 26 taking a bus from Cusco to Lima and then getting in a cab, KTVU reported.
The U.S. State Department has made a poster of Neal and Hand, while the U.S. Embassy in Peru's website posted a travel warning for Americans.
The warning, which was posted on Feb. 13, is about a potential kidnapping threat.
"The Embassy has received information that members of a criminal organization may be planning to kidnap U.S. citizen tourists in the Cusco and Machu Picchu area," the statement said. "Possible targets and methods are not known and the threat is credible at least through the end of February 2013."
Neal said that the couple likely had no idea about such a threat.
"They would have no known anything about it because they're not watching the news," Neal said. "They're riding their bicycles around everywhere."
Anyone with information on the couple's whereabouts is urged to call the U.S. Embassy in Lima or the U.S. State Department.
Fox News' Cristina Corbin and Molly Line contributed to this report.