Singapore to issue verdict on death of US scientist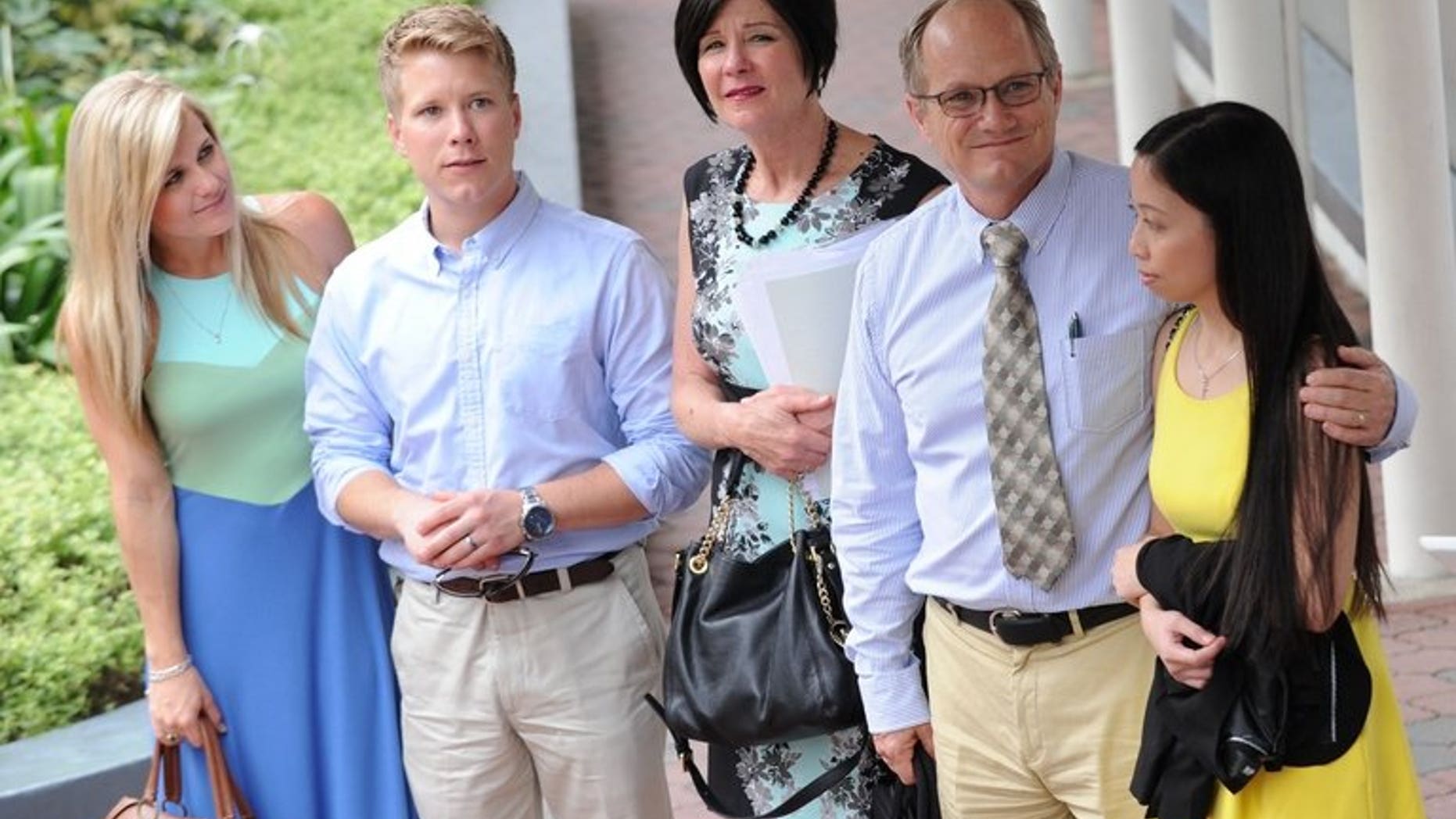 SINGAPORE (AFP) – Singapore's state coroner is set to issue the verdict Monday on the controversial death of an American scientist found hanged in the city-state, whose family believe he was murdered.
The body of 31-year-old electronics researcher Shane Todd was discovered by his girlfriend in his flat in June 2012, sparking a controversy that reached the highest levels of the Singapore and US governments after his parents refused to accept suicide findings by the Singapore police.
Todd's family say that he was murdered as part of a conspiracy involving a Chinese technology firm.
After two weeks of public hearings in May, the Singapore government rejected the murder theory and said Todd killed himself after a bout of depression.
Government lawyers cited suicide notes left by Todd on his laptop computer, a psychiatrist's testimony that he suffered from depression, and a browsing history showing he accessed suicide websites before his death.
But the Todd family remains insistent that he was murdered because of his work at his former employer, Singapore's state-linked Institute of Microelectronics (IME).
They claim that he was involved in a secret project for Huawei Technologies, a Chinese telecom giant seen by Washington as a security threat.
IME and Huawei said they only held preliminary talks on a potential project with commercial applications, but did not proceed.
Todd's mother Mary has dismissed the suicide findings -- which need to be formally affirmed by the state coroner -- as "a sham and a cover-up".
She told AFP the family was planning to set up a website called "Justice 4 Shane" to press their case and offer evidence to the public, including photographs of her son's body.
The family attended the Singapore inquest in May but angrily walked out after six days and flew home, saying they had "lost faith" in the proceedings.
During the hearings, their star witness, US pathologist Edward Adelstein, recanted an earlier theory that Todd was garroted with a cord in his own apartment.
Instead he presented a new scenario -- that Todd was killed by assassins who either used a stun gun or choked him to knock him unconscious before hanging him to make his death look like suicide.
But Adelstein presented no evidence and two other US pathologists testified in support of Singapore police findings that Todd hanged himself from his bathroom door.
The death of the American scientist was first thrust into the spotlight after the Financial Times reported in February that Todd's family suspected he was murdered because of his work on a joint project with Huawei involving gallium nitride (GaN), a semiconductor material with military and commercial applications.
Singapore quickly moved to dispel allegations that it had improper ties with Huawei and vowed to conduct a transparent investigation into the case. Police investigators in the city-state subsequently shared information with the US Federal Bureau of Investigation (FBI).
The verdict by state coroner Chay Yuen Fatt on Monday cannot be appealed.
Under Singapore law, a coroner's inquest is a routine process for cases of unnatural death, and will only determine the cause of death.