Shipwrecked Costa Concordia begins final voyage to scrapyard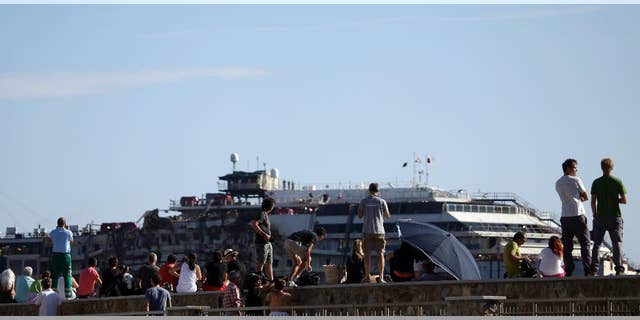 GIGLIO ISLAND, Italy – The Costa Concordia cruise liner has begun its final voyage, slowly being towed away from the tiny Italian island where it capsized, killing 32 people in 2012.
Sirens on nearby boats wailed and bells on the island tolled just before two tugboats on Wednesday pulled the Concordia away from Giglio's port, where the luxury liner ended up on its side, after striking a reef when its captain steered too close to the island in pristine waters.
The tugs are bringing the crippled ship on a four-day journey to Genoa, the northwestern Italian mainland port and home to the ship's owner, Costa Crociere Spa. The vessel will be reduced to scrap at the port.
Accompanying the tugs and Concordia, moving at 2 knots, are several boats to help check for any possible pollution in the waters, which are home to dolphins.
A daring engineering operation set the Concordia upright last September in preparation for removal. The salvage master of the entire operation, Nick Sloane, told reporters he was a bit nervous just before boarding the Concordia to monitor the final voyage.
After the Concordia's departure from Giglio, another search will be launched for the body of the one victim that was never found.
The Concordia's Italian captain is on trial for multiple manslaughter, causing the wreck on Jan. 13, 2012, and abandoning ship before all aboard were evacuated. The sole defendant in the trial in Tuscany, Francesco Schettino claimed the reef wasn't on the liner's nautical charts.
"It's a moment for sobriety and sorrowful respect for those who are no more," Franco Gabrielli, the Italian government official monitoring the entire removal process, told Sky TG24 as he recalled those who perished.
France also sent a boat to monitor the voyage, since the Concordia's final route passes Corsica's east coast.