Sherpa feared dead on Mount Everest following ASKfm's cryptocurrency publicity stunt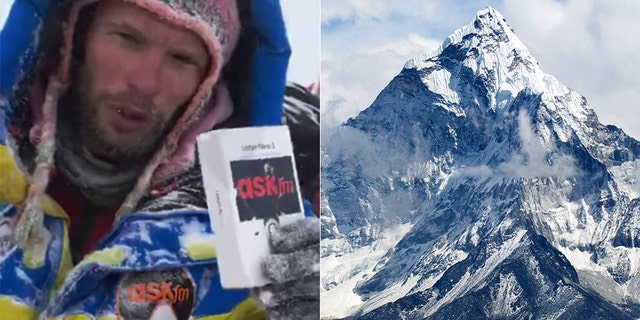 NEWYou can now listen to Fox News articles!
A Sherpa who scaled Mount Everest as part of a publicity stunt that had climbers bury a new cryptocurrency at the summit of the world's largest peak is believed to have died on the team's descent.
Two Sherpa joined three Ukrainian climbers for a trek to the summit on May 14 carrying two Ledger crypto wallets containing about $50,000 worth of new cryptocurrency tokens launched by ASKfm, the world's largest question-and-answer board, Rock and Ice reported.
The plan was to bury one of the wallets at the summit and dare a brave soul to trek up and retrieve the tokens.
The team got to the summit of Mount Everest safely; however, it was on the way down that it all went wrong. According to reports, the weather started to worsen before the team reached base camp.
UN GENERAL ASSEMBLY ELECTS ECUADOR MINISTER NEXT PRESIDENT
According to ASKfm, the climb to the summit was considered a success and all the climbers were able to make it down relatively unharmed. Taris Pozdnii, one of the climbers, suffered frostbite on his fingers and feet but has recovered.
However, one of the Sherpas, who was believed to be Lam Babu Sherpa, was reportedly left behind while the climbers made their way back. He was believed to be dead.
A May 17 press release from ASKfm, published after the group returned to base camp, did not mention the Sherpa's status.
The Financial Times reported one of the climbers stating, "At the top of Everest the weather was very bad, and then we were coming down. We were going down to Camp 4, which is at about 7900 m, and one Sherpa was dying. That's all we know. … He was behind us, so we don't know what happened to him. We were going fast and the Sherpa wasn't coming with us. He was coming behind so we didn't see him."
ISRAEL TROLLS IRAN'S SOCIAL MEDIA THREAT WITH 'MEAN GIRLS' GIF
It was not immediately clear if Lam Babu was described as a "dying" Sherpa, but he remains missing, the Financial Times reported. ASKfm dared "others to hunt" for the cryptocurrency the climbers left behind "if they're brave enough."
Rock and Ice reported some 300 people have died while climbing Mount Everest since 1921 and about six people die annually due to the freezing temperatures and altitude.