Sheriff Joe Arpaio Ethnic Discrimination Case Goes to Court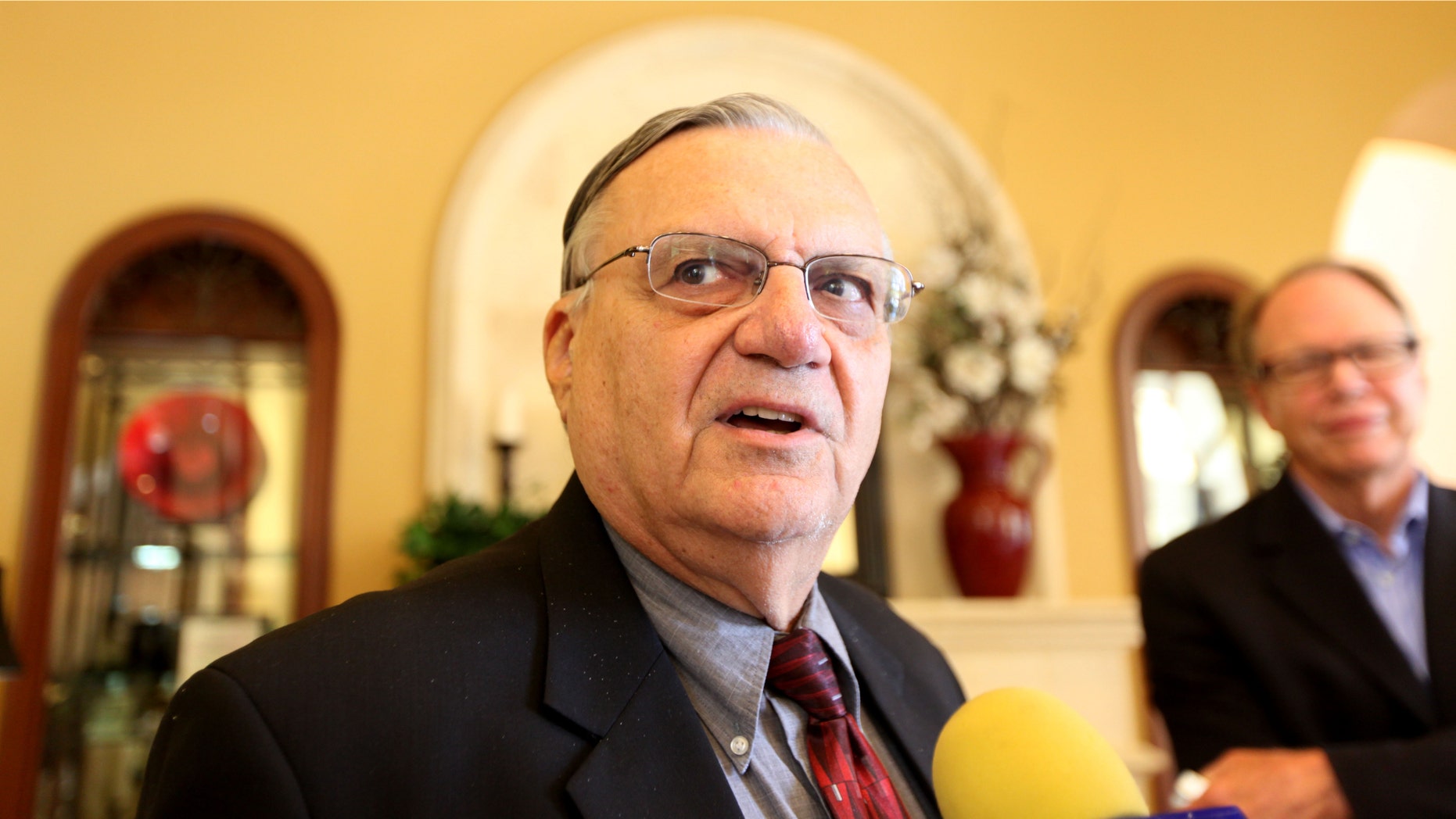 Maricopa Sheriff Joe Arpaio is scheduled to face trail Thursday over allegations that he systematically discriminated against Latinos and illegally usurped federal authority during years of sweeps aimed at rounding up undocumented immigrants.
The lawsuit, Melendres v. Arpaio, alleges that Arpaio's office and his volunteer posses target people who look Latino to check their immigration status, and stop Latinos more frequently and for longer durations than non-Latinos.
The suit against Arpaio, Maricopa County Sheriff's Office, and the county government, first filed in 2007, also says Arpaio routinely stopped Latinos simply to check their immigration status and detain undocumented immigrants, which only federal agents have the authority to do.
Because of Mr. Ortega's experience with the Maricopa County Sheriff's officers he is now afraid.
One of the people bringing the case, Manuel de Jesús Ortega Melendres, says he was stopped by police while riding in a car driven by a non-Hispanic white man. Though stopped because of a speeding violation, the police officers asked to see Ortega Melendres' identification.
Ortega Melendres says he handed over his U.S. visa, Mexican voter registration card—both of which are photo IDs—and a copy of his permit from the Department of Homeland Security. Nevertheless, the police asked him to leave the car, patted him down, handcuffed him and detained him for hours, Ortega Melendres says.
"Because of Mr. Ortega's experience with the Maricopa County Sheriff's officers, he is now afraid," the complaint says. "Mr. Ortega is afraid that he will be thrown in jail without any explanation, without any rights, and without any opportunity to get help even though the federal government of the United States has issued a visa to him that gives him permission to be here."
Arpaio, the country's self-proclaimed toughest sheriff, denies his office discriminates against Latinos.
"This office aggressively enforces all local, state and federal laws in order to combat the growing illegal immigration epidemic in Maricopa County," Arpaio's office says in a statement on its website. "Deputy sheriffs are specifically trained to identify indicators that a person or persons might be in this country illegally without violating their constitutional rights."
A spokesman for Arpaio declined to comment on the case, citing the advice of Arpaio's attorneys.
A study commissioned by the Justice Department and released in December found that Latinos are four to nine times more likely to be stopped by police on Maricopa County roads than non-Latinos.
The courts have given class-action status to all Latinos in the country who have been stopped or could have been stopped by police since the suit was filed in 2007.
The class action suit is expected to run until Aug. 2, according to Allessandra Soler of the Arizona ACLU. It's not clear whether the courts will return a verdict in the politically charged case before the November elections.
Arpaio has gained national notoriety for his zeal in enforcing immigration law, even as the federal government has sought to prioritize deportation of serious criminals and those who repeatedly enter the country illegally.
The Maricopa County sheriff is also known for his unorthodox policies, including making inmates wear pink underwear and housing prisoners in tents to save money. Though Maricopa County's so-called "Tent City" has drawn criticism, Arpaio contends that the U.S. military lives in tents in combat missions in Iraq and Afghanistan, so prisoners should be able to as well.
Thursday's lawsuit isn't the only one Arpaio faces over alleged ethnic discrimination.
The Justice Department is also suing Arpaio, alleging that he subjected Latinos to discriminatory and unconstitutional stops, detentions and harassment based on their appearance or national origin.
The state of Arizona became a national flashpoint for the politically charged immigration issue in 2010, with the passing of SB 1070—a law that is not involved in Thursday's trial, but addresses similar issues.
SB 1070, among other provisions, mandated state police to check the immigration status of those they suspect of being in the country illegally. The Supreme Court struck down three contested portions of SB 1070 in June after the Obama administration challenged it, but upheld the so-called "show me your papers" provision.
A group of civil rights organizations, including the ACLU and the Mexican American Legal Defense and Educational Fund, or MALDEF, asked a court to block the SB 1070 provision on Tuesday, arguing that it would lead to a pattern of racial discrimination against Latinos and result in more frequent and longer detentions of Latinos if enacted.