Shares in Germany's Deutsche Bank soar after announcement that co-CEOs Jain, Fitschen to go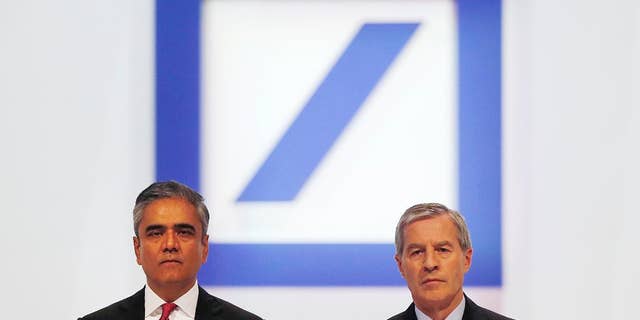 BERLIN – Deutsche Bank shares are soaring following the announcement that the company's co-CEOs, Anshu Jain and Juergen Fitschen, will step down early.
The bank's shares were up 5.7 percent in midday trading Monday in Frankfurt at 29.20 euros — by far the biggest gainer on the DAX index of leading German shares, which was off 0.6 percent.
The bank announced Sunday that Jain will depart at the end of this month while Fitschen will follow next May. Their successor will be British banker John Cryan, initially as co-CEO with Fitschen and then in sole charge.
Under Jain and Fitschen, Deutsche Bank has struggled to get over legal issues put dating back years and has seen disappointing profits.