Several Wounded After Syrian Security Forces Open Fire on Funeral March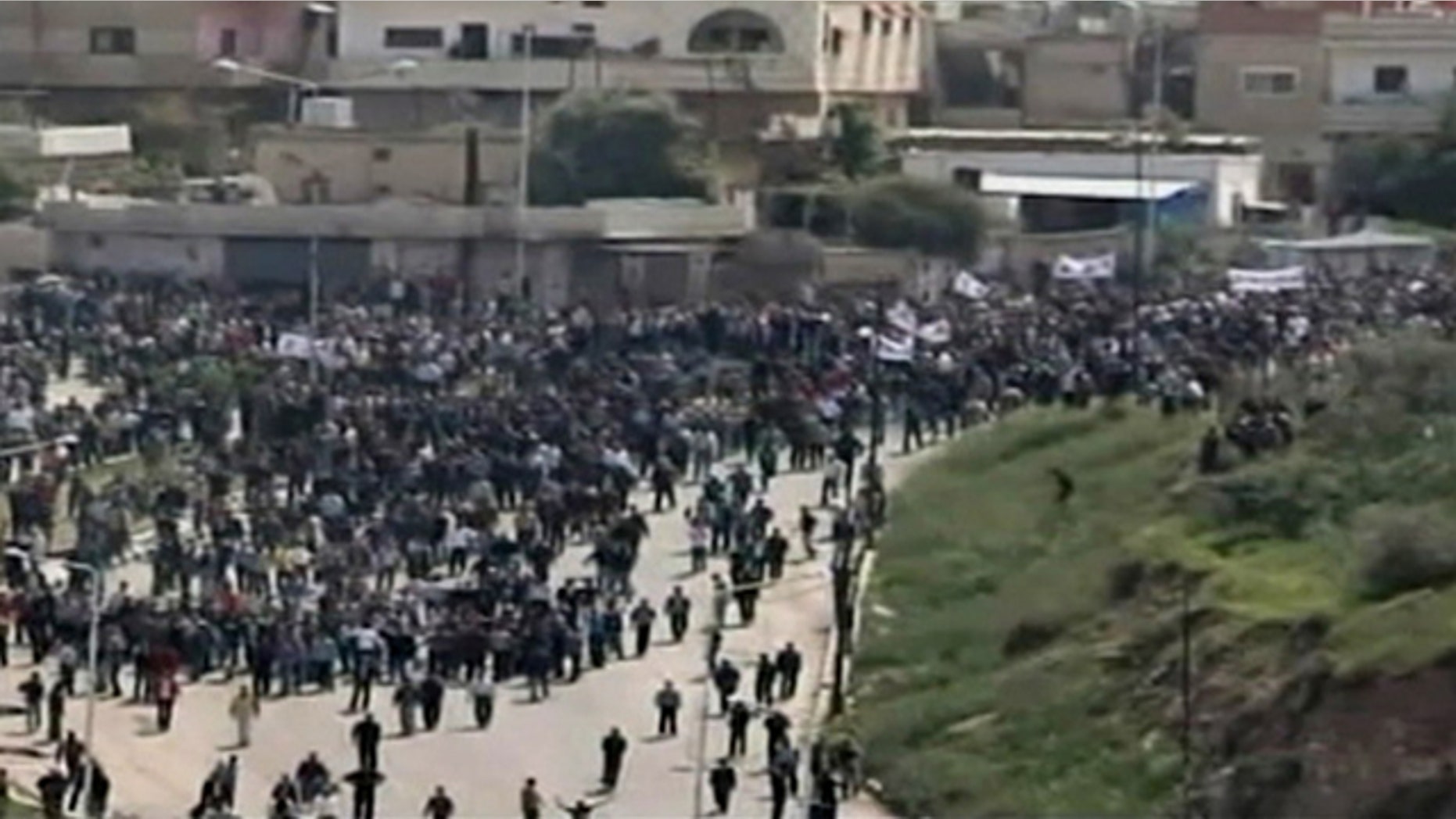 BEIRUT -- A Syrian opposition figure says security forces have surrounded a port city where protesters are gathering for another day of demonstrations against the country's authoritarian regime.
Haitham al-Maleh says troops set up checkpoints at the entrance of Banias on Sunday. Calls to the city were not going through, making it difficult to gather details.
Syria's National Organization for Human Rights said one person was wounded in Banias but it was not clear if he was shot by police.
Syrian security forces fired live ammunition Saturday to disperse a funeral march for some of the 37 people killed a day earlier in the single bloodiest day of the country's three-week anti-government uprising, a human rights group said.
Several people were wounded in the shooting in Daraa, said Ammar Qurabi, head of Syria's National Organization for Human Rights. The group's information was from residents and witnesses in the city.
Further details on the shooting were not immediately available. Telephone calls to Daraa were not going through, and the Syrian government has placed severe restrictions on media coverage in the country.
Daraa has become a flash point for violence, which the government blames on armed gangs rather than true reform-seekers.
Still, the calls for political reform have shaken President Bashar Assad, whose family has ruled Syria for more than 40 years.
As the wave of protests gathers steam, Assad has offered some concessions such as firing local officials and forming committees to look into replacing the country's despised emergency laws.
On Saturday, he referred fired Daraa governor Faisal Kalthoum and former security officer Atef Najib to court to investigate their role in igniting and handling protests in the city, a security official said. Assad had fired Kalthoum on March 23.
But those gestures have failed to appease a growing movement that is raising the ceiling on its demands for concrete reforms and free elections.
On Friday, witnesses said security forces opened fire on tens of thousands of protesters in Daraa, killing 25 people and wounding hundreds. The government gave a different account, saying 19 policemen and members of the security forces as well as a number of civilians were killed when gunmen opened fire on them.
The differing accounts could not be independently verified. But it was the first significant claim of casualties by the government and could signal plans for a stronger crackdown. State TV showed what it called vandals setting fire to the Radio and TV building in Daraa and what it said were gunmen shooting randomly in the central city of Homs.
Friday's bloodshed marked a clear escalation of the unrest in Syria, one of the most authoritarian regimes in the Middle East. More than 170 people have been killed since the protests began, human rights groups say.
Activists seeking to break Assad's iron-fisted rule called for daily protests Saturday to ramp up pressure on the regime. So far, crowds have only gathered in serious numbers on Fridays.
But the rallying cry was met with a sharp warning by Syrian authorities that they would crush further unrest, raising the risks of more bloodshed.
Early Saturday, security forces fired live ammunition to disperse hundreds of protesters in the key port city of Latakia -- the heartland of the ruling elite.
Residents reported hearing hours of heavy gunfire overnight as security forces forcefully broke up the sit-in.
"The shooting went on for almost two hours, it was frightening," said one resident, speaking on condition of anonymity for fear of reprisals. There was no immediate word on casualties from the shooting.
Latakia is significant because the province has strong historical ties to Assad's minority Alawite sect, which is an offshoot of Shiite Islam. Latakia is now home to a diverse mix of religious groups, with mostly Sunni Muslims in the urban core and Alawites in the countryside. At least 12 people died in clashes in the city two weeks ago, raising fears that the violence could take on a sectarian tone in coming days or weeks.
In a signal of an increasingly tough line, Syria's Interior Ministry said it will not tolerate "the intentional mixing between peaceful protests and sabotage and sowing sectarian strife."
"Syrian authorities will confront those people and those that stand behind them," the statement added.
The editor-in-chief of the state-run Tishrin newspaper was fired Saturday after giving an interview to Al-Jazeera satellite station in which she held security forces responsible for Friday's violence in Daraa.
An official at the newspaper confirmed Saturday that Samira Masalmeh, who is from Daraa, was fired because of the interview. The official spoke on condition of anonymity because he did not have permission to release the information.