Several tons of bomb-making chemical seized at Afghan-Pakistan border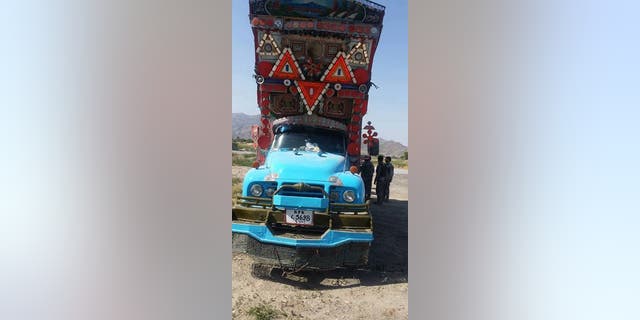 NEWYou can now listen to Fox News articles!
Afghan authorities intercepted nearly 11 tons of a bomb-making chemical hidden on a truck trying to cross the border from Pakistan Tuesday, while a nearby suicide car bombing killed 11 people.
The 10.7 tons of ammonium nitrate – a key ingredient in the Taliban's roadside bombs that have killed thousands of soldiers and civilians – were found hidden in a fruit truck, Stars and Stripes reported.
"The material was discovered ... by Afghan border police in Torkham border crossing," Interior Ministry Spokesman Sediq Sediqqi told NBC News. "This material is the most important element for making roadside bombs that frequently targets civilians and Afghan security forces."
Two suspects in the truck were arrested. Ammonium nitrate is also commonly used as a fertilizer in Afghanistan and Pakistan.
In the area where the truck was stopped, a suicide car bombing Tuesday killed 11 people and left 22 injured, including women and children.
Gen. Zarawar Zahid, the chief of police in Nangarhar province, told The Associated Press that the attack targeted a tribal elder who was involved with organizing local militias to combat insurgents in the region.
Menadaar Sayar, a commander of a local militia fighting supporters of the Islamic State terror group, said he suspected ISIS was behind the attack.
The Nangarhar region has seen heavy fighting in recent months as the Taliban, ISIS and government forces have all been battling each other, Stars and Stripes reports.
The Associated Press contributed to this report.