Service marks 60 years since Queen Elizabeth II's coronation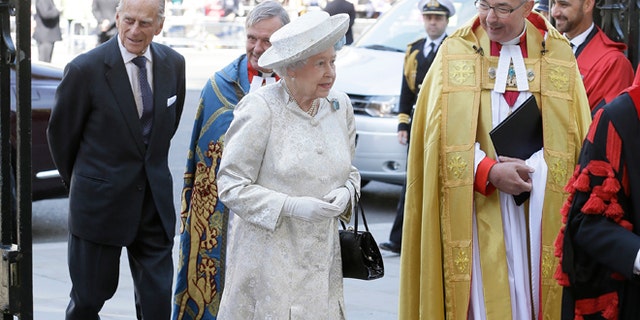 LONDON – Britain's royal family gathered at Westminster Abbey Tuesday for a ceremony of pomp and prayer to mark the 60th anniversary of the coronation of Queen Elizabeth II.
Elizabeth, now 87, was crowned in the abbey on June 2, 1953, in a ceremony laden with 1,000 years of tradition. British monarchs have been crowned in the ancient London church since William the Conqueror in 1066.
The queen's children and grandchildren were among 2,000 people attending Tuesday's anniversary service, which featured hymns, prayers, a reading from Prime Minister David Cameron and a poem written for the occasion by poet laureate Carol Ann Duffy.
Archbishop of Canterbury Justin Welby, spiritual head of the Anglican church, told the congregation that the service celebrated the queen's "path of demanding devotion and utter self-sacrifice, a path she did not choose, yet to which she was called by God."
"Today we celebrate 60 years since that moment, 60 years of commitment," he said.
The service was carefully designed to evoke memories of 60 years ago.
The jewel-encrusted, golden St. Edward's Crown which the queen wore at her coronation sat on the High Altar — the first time it has left the Tower of London since 1953.
It was accompanied by a vial of aromatic oil, from the same batch used at the coronation, carried to the altar by representatives of the British people, including children and a school crossing guard.
The monarch wore oyster silk-satin brocade dress and coat, similar in color to her silk coronation gown.
The queen's 91-year-old husband, Prince Philip, attended Tuesday's service though he had pulled out of an event Monday evening because of illness.
Also attending were the queen's heir, Prince Charles; his sons, Prince William — second in line to the throne —and Prince Harry; and William's wife Catherine, who is due to give birth to their first child next month.
The baby will become third in line to the throne.
Elizabeth became monarch on the death of her father, King George VI, in February 1952. But she was not crowned until more than a year later, after a period of mourning.
The coronation was Britain's first mass television event, watched by more than 20 million people.
"It was the first time the whole nation had watched anything as it happened," said Welby. "But this they saw — pomp and ceremony on a rainy June day, all so very British, wrapped in time and custom."
Pomp and ceremony returned Tuesday — and unlike 60 years ago, the sun was shining.