Senior Leader of Al Qaeda Group Captured While Dressed as Woman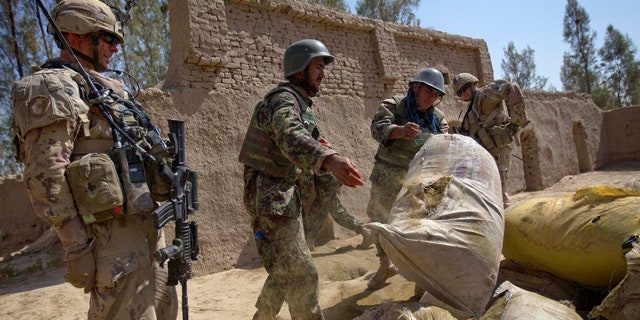 KABUL, Afghanistan -- A senior leader of an Al Qaeda-linked terror group has been captured in northern Afghanistan dressed up like a woman -- the latest in a recent series of cases involving male militants disguised as females, the U.S.-led military coalition said Tuesday.
A joint Afghan and coalition force apprehended a senior figure from the Islamic Movement of Uzbekistan and two of his associates during a nighttime operation Monday in Kunduz city, NATO said.
It said the militant, who also supported the Taliban network, had planned attacks against the Afghan National Police, as well as various suicide bombings and assaults against other Afghan security forces.
NATO did not release the names of the three suspects caught in Kunduz.
"The leader attempted to disguise himself as a female by wearing a burqa, which is an all-enveloping cloak worn by some Muslim women," the coalition said in a statement. "In the last two months there have been several instances of targeted males wearing burqas in attempts to disguise themselves in order not to be caught by Afghan-led forces."
The coalition said there also have been a handful of recent reports of female combatants in burqas.
Kunduz and the surrounding provinces are known hide-outs for the Taliban, Al Qaeda and fighters from militant factions that include the Haqqani network, Hizb-i-Islami and the IMU, which aims to create an Islamic state across Central Asia.
The IMU was formed in 1991, originally aiming to set up an Islamic state in Uzbekistan, which neighbors Afghanistan, but later expanded its goal to seeking one across Central Asia. Aligning itself with Al Qaeda, it has been most active in the north where violence has been on the rise.
Earlier this month, a suicide bomber blew himself up outside a mosque in Kunduz where a remembrance ceremony was being held for a slain Afghan police commander. The blast killed four police officers. This spring, a suicide bomber killed 35 people at an Afghan army recruitment center and at least 30 others died when another suicide bomber blew himself up at a government office where Afghans were waiting in line for identification cards.
In October, a bomb killed Kunduz Gov. Mohammad Omar and 19 others in a crowded mosque in neighboring Takhar province. Omar was killed just days after he warned of escalating threats from Taliban and foreign fighters in the north.
Elsewhere in Afghanistan, a roadside bomb killed two women and injured a child who were walking in Panjwai district of Kandahar province in the south, said district police chief Mohammad Azeem.
Separately, the coalition said three NATO service members had been killed in the south. A roadside bomb killed one Monday and insurgent attacks killed two more Tuesday. No other details were released.
The deaths bring to at least 56 the number of NATO service members killed in June in Afghanistan, including at least 34 Americans.