See Through The Eyes Of A Killer: Jodi Arias Puts Her Trademark Eyeglasses Up For Sale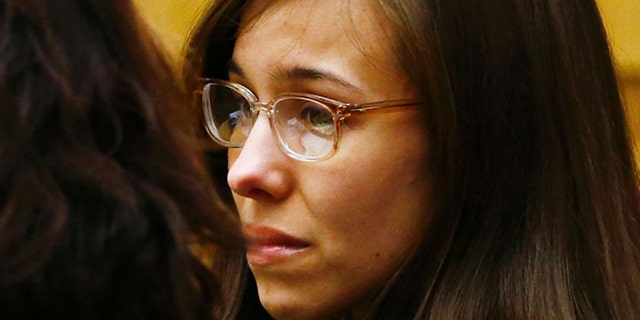 Convicted killer Jodi Arias became known throughout the world as the diminutive woman with plastic-framed eyeglasses who committed a gruesome atrocity – she became so enraged with her boyfriend she stabbed him close to 30 times.
Now the iconic eyeglasses she wore throughout her sensational trial are being put on the auction block, according to her website.
The Arizona native wore the white-translucent specs during her 2013 trial for stabbing, shooting and slitting the throat of her ex-boyfriend, Travis Alexander.
"Get ready to own a one-of-a-kind piece of history," Arias wrote on the site.
Bidding starts at $500 with the auction ending on Sept. 24. According to the auction post, 100 percent of the proceeds will go to a Phoenix-area non-profit, though the name of a charity is not mentioned.
According to the Twitter account giving updates on Arias' time in prison, the charity will be announced once the auction has closed.
The infamous glasses are not the only thing that can be purchased on Arias' website.
Since January of last year, she has been peddling her art on the website, where they have sold for $25 to $8,700. Proceeds from the sales helped cover the costs of her trial until her conviction, when she was no longer allowed to profit from her art. Since then she has donated to different charities, including St. Jude Children's Research Hospital.
Arias is not the only person to try and capitalize on their infamy following their high-profile murder case.
George Zimmerman, who was acquitted in the murder of 17-year-old Trayvon Martin, auctioned off an oil painting depicting a U.S. flag in shades of blue with select phrases of the Pledge of Allegiance.
He ended up selling his artwork for more than $100,000.
Follow us on twitter.com/foxnewslatino
Like us at facebook.com/foxnewslatino