Security tight in Kenya for British Islamist trial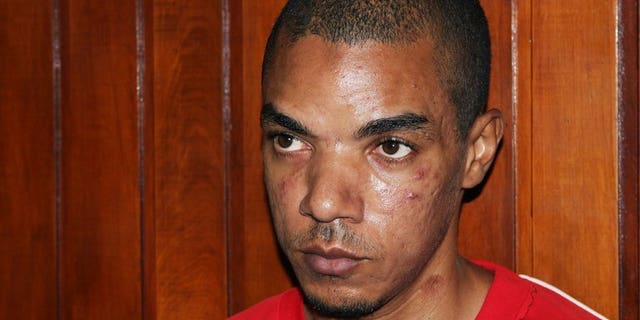 NEWYou can now listen to Fox News articles!
MOMBASA, Kenya (AFP) – Suspected British Islamist militant Jermaine Grant, accused of ties to Somalia's Al-Qaeda-linked Shebab, appeared in a Kenyan court on Tuesday on explosives charges.
Security was high for the trial in the port city of Mombasa, with Kenya on edge as the bloody siege at a Nairobi shopping mall, claimed by the Shebab, runs into its fourth day with militants claiming to still hold hostages.
Grant was arrested in December 2011 in Mombasa with various chemicals, batteries and switches, which prosecutors say he planned to use to make explosives.
Prosecutors accused Grant, a 30-year-old Muslim convert, of working with fellow Briton Samantha Lewthwaite -- the fugitive widow of British suicide bomber Germaine Lindsay, who blew himself up on a London Underground train on July 7, 2005, killing 26 people.
Lewthwaite, a 29-year-old mother-of-three and daughter of a British soldier, is wanted by Kenyan police and has been named in media reports as one of the possible attackers in the Westgate mall siege in Nairobi.
Grant is believed to have become radicalised as a teenager in the same British prison where "shoe bomber" Richard Reid first turned to Islam.
Reid, who claimed he was an Al-Qaeda recruit, is serving a life sentence in the United States for trying to blow up a flight from Paris to Miami in December 2001.
Grant is charged along with his Kenyan wife, Warda Breik Islam, and two other Kenyans. He has denied the allegations.
In December 2011 he pleaded guilty to charges of being in the country illegally and lying about his nationality, for which he was sentenced to two jail terms of two years, to run concurrently.
However, he was acquitted of robbery charges in a separate trial in Nairobi on September 13 this year.
The charges in that case included robbery with violence and raiding a police station over an incident in 2008, when Grant was arrested trying to enter war-torn Somalia dressed as a woman and later escaped custody in a shootout.