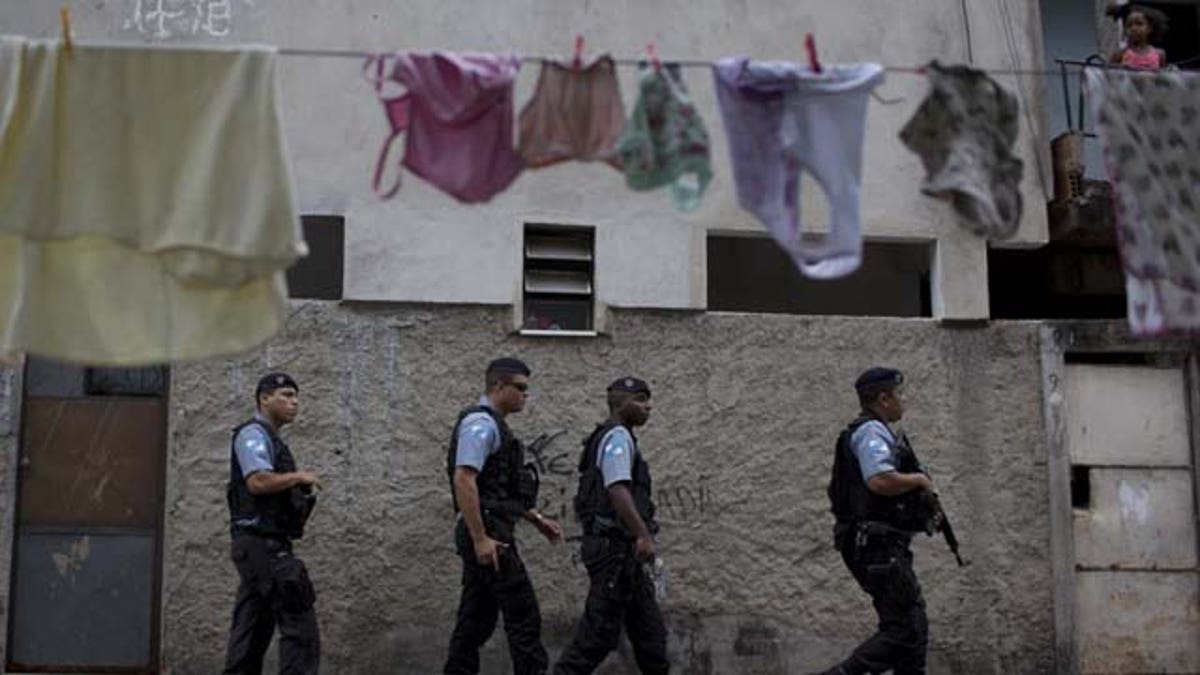 RIO DE JAINEIRO – Since taking the helm of the world's biggest church in March, Pope Francis has waded into massive crowds with minimal protection to hug children and wash the feet of the faithful. He has surrounded himself with everyday worshippers at every turn, winning acclaim that he's breaking down barriers between the Vatican and the world's 1.2 billion Catholics.
Yet for Brazilian security officials charged with protecting the 76-year-old pontiff with the common touch, his seven-day visit this week is an uncommon security challenge.
In his first international trip as pope, Francis has built much of his schedule in the world's biggest Catholic country around high-profile events that send him straight into unpredictable, potentially chaotic environments -- without the protection of the bulletproof popemobile used by his two predecessors.
On Thursday, the pope will visit a tiny chapel founded in 1971 in the Varginha slum, one of Rio's more than 1,000 hillside shantytowns. Many such slums cower under the control of dangerous drug gangs or deadly militias made up mostly of former and current police and firefighters. Police invaded Varginha in January to clear out traffickers, but the gangs remain a shadowy presence there.
The next day, Francis will hit Copacabana beach to walk the Stations of the Cross among an expected 1 million young Catholics gathered for World Youth Day festivities. Vatican officials have said he'll travel to the beach past thousands of devotees in an open-topped vehicle, a plan that would put the thousands of police and soldiers dispatched to protect the pope on high alert and require more plainclothes security.
Brazil's justice and defense ministers, along with a top army commander, urged the pope to use an armored popemobile instead, but the Vatican has responded that Francis likes to jump in and out of his vehicle to greet the faithful, which wouldn't be possible in the more protected vehicle.
"The bulletproofing would lessen our worries, it'd be better if he had it," said Gen. Jose Abreu, the top officer overseeing the military's role in the security scheme. "It's a personal choice and we'll respect it, but it's not remotely pleasant for security forces."
On the top of everyone's minds are the massive and sometimes violent anti-government protests that swept this continent-sized country last month. They've continued, albeit with fewer people, less than a week before Francis' arrival Monday.
Last week, a small protest in Leblon, one of Rio's poshest neighborhoods, erupted into looting and destruction, with demonstrators smashing storefronts, defacing street signs and setting piles of garbage on fire.
A handful of protests are planned. If violence breaks out near the pope, the world may once again see images of demonstrators enveloped by clouds of tear gas, stun grenades ricocheting off stately buildings and rubber bullets whizzing through the air.
Jose Beltrame, the top security official for Rio de Janeiro state overseeing the police who will counter any violent protests, said he's certain his officers "are ready to host the pope" because they know his set agenda and have a plan in place.
However, Beltrame acknowledged that the protests are an unknown factor and that each demonstration would need to be approached differently depending upon how it unfolds.
"The challenges of the protests are different. The police have to be flexible and adapt, because there is no coordinated agenda (of protests)," he said. "We're vigilant, but it depends upon how they happen, when they happen, which is information that we don't fully have."
Joe Biundini, a Brazilian-born former U.S. Marine who heads the FAM International Group security firm, warned that much will depend on police response to any protests.
"If you see the police doing something stupid, like violently attacking protesters, that could cause some very serious problems," Biundini said.
Security officials have said the stiffest security challenge will be providing security for the pope's two mass events on 2.5 mile-long (4 kilometer-long) Copacabana beach. Still, they insist they're experienced in handling mega-crowds and point to a string of concerts that have attracted similarly massive numbers of spectators to Copacabana.
April's bombing attacks on the Boston Marathon, which killed three and injured 264, have certainly raised sensitivities about the potential dangers of such mass events. But Brazilian police said there'll be no checkpoints or bag inspections of the crowds at Copacabana, similar to the security schemes at other events.
That doesn't mean the Brazilians won't be making a show of force.
Some 10,000 police officers and more than 14,000 soldiers will be on duty during the pope's visit, and six Brazilian military aircraft will provide transportation for the pontiff. The helicopters will let Francis avoid Rio's snarled traffic and the dangers of land travel.
Nearly 100 lookout towers will also allow police to monitor an expected 1.5 million people turning out for yet another mass event, the World Youth Day's closing Mass in the rural neighborhood of Guaratiba, about 30 miles (50 kilometers) west of Copacabana on the far outskirts of Rio.
Federal, state and local governments are expected to spend a total of around $52 million on all the security and logistical measures for the papal visit.
Even with such numbers, Francis' itinerary will at some points push him out of the reach of all but his immediate security detail, entrusting much of his protection to the crowd of faithful. Experts have warned that a lone wolf-style assailant presents the gravest security threat.
"Much of the pope's security will be provided by the Brazilian people" themselves, said General Presidential Secretary Gilberto Carvalho.
Biundini said the high-profile visit will provide a tempting stage for demonstrators looking for a world audience.
"On the one hand, the pope is a very respected figure in Brazil, which is of course a majority Catholic country," he said. "On the other hand, all eyes are going to be on Brazil, so the pope's visit would be a very attractive platform for groups to get their messages across."
For Brazil's government, the pope's visit is seen as a test run for the country's hosting of next year's World Cup soccer tournament and the 2016 Olympics, which will also draw millions of visitors.
In preparation, Brazilian soldiers have invaded a swath of Rio's slums to push out drug gangs and re-establish their authority. In large part because of slum violence, Brazil suffers one of the world's highest homicide rates, which has doubled in the past three decades, according to a new report.
Nonetheless, a recent visit to the slum Francis is set to enter revealed only two police officers parked just a few meters from the chapel where he'll pray. Journalists were warned by adolescent boys to not take pictures of certain areas where drug peddlers were active, standard practice in slums that have yet to be pacified.
Varginha is one of Rio's smallest slums, a triangle-shaped chunk of flat, dusty land sitting between two putrid waterways full of raw sewage. On the third side runs a busy main road with an elevated commuter train that noisily rolls by overhead.
Brazilian police haven't revealed how they'll secure the slum when Francis arrives, beyond that military police will handle the job. The slum's surroundings somewhat ease security concerns, with the waterways acting as natural boundaries and only two roads 300 meters apart from one another allowing access.
With so many challenges ahead of them, city officials have made clear they still welcome the visit by Francis, the first pope to come from the Americas. But they'll also be relieved when they're no longer responsible for his safety in such complicated terrain.
"It's all worrisome," said Mayor Eduardo Paes. "When you think that in Copacabana we're going to have two New Year's concerts in the same week and then when you think you can go home and rest but then you have another New Year's party in Guaratiba, you can imagine this is something that has demanded a huge effort on our part."