Secretive Mexican police unit questioned over 3 murdered Americans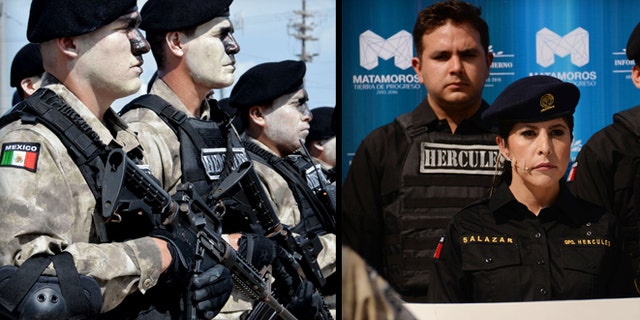 NEWYou can now listen to Fox News articles!
Mexican authorities are questioning nine police officers in connection with the murders of three American siblings from Texas and one Mexican, a case that has prompted U.S. congressmen to call for a thorough investigation.
The siblings - Erica Alvarado Rivera, 26, and her brothers Alex, 22, and José Angel, 21 - went missing more than two weeks ago. Their bodies were found on Wednesday east of the border city of Matamoros, along with the body of Erica's boyfriend, 32-year-old José Guadalupe Castañeda Benítez. Each had a bullet wound to the head and their hands were tied.
"When you have an unknown training curriculum, you don't know if the men are vetted. In a town of organized crime, whose local government has ties to organized crime, bad stuff can happen. That's a recipe for a death squad."
Their parents claim that several witnesses saw men in police uniforms beat their children up and put black hoods over their heads before throwing them into military-style trucks.
The men threatened witnesses not to talk and identified themselves as members of the Hercules Group, an elite security unit newly formed by the mayor of Matamoros, Leticia Salazar, in charge of protecting her.
Nine of the 40-member Hercules Group are now being questioned, Ismael Quintanilla Acosta - the attorney general of the state of Tamaulipas, in which Matamoros is located - said in a press conference Thursday evening.
He stopped short of calling them suspects.
Pedro Alvarado, the father of the three Americans, says he found his daughter's black Jeep Cherokee and his son's Chevrolet Tahoe at a business owned by by Luis Alfredo Biasi, the current Secretary of Social Welfare and Development in Matamoros. Biasi was dressed in Hercules police gear during the unveiling of the security force in September alongside Mayor Salazar.
"I think the United States needs to put whatever efforts it takes into investigating the deaths of our three citizens," Democratic Rep. Filemon Vela, who represents the Alvarado's district, told Fox News Latino.
The murders at a peak of distrust of the Mexican police forces after 43 teachers' college students in the state of Guerrero went missing in late September, apparently at the hands of a municipal mayor and police force who worked hand-in-hand with a local drug gang.
"The reported deaths of three Americans in Matamoros, like the recent developments in Guerrero, continues to highlight why citizens of Mexico are wary of their own law enforcement officials," U.S. Rep. Matt Salmon (R-AZ), chairman of the House Foreign Affairs subcommittee on the Western Hemisphere, told Fox News Latino via email.
"I will be monitoring this situation as it develops," Salmon wrote, "and I trust our diplomats on the ground will now be engaged with the appropriate Mexican authorities to ensure the investigation is fair and impartial."
"We are aware of media reports that the remains found near Matamoros have been identified as the three missing U.S. citizens," a U.S. State Department official told FNL. "Officials from the U.S. consulate in Matamoros continue to offer all possible consular assistance. Out of respect for the privacy of those affected, we will not comment further."
The murders aren't the first violent incident involving U.S. citizens in the area. In May 2013, U.S. Marine reservist Armando Torres was kidnapped and presumably killed in Matamoros. Between January and June of 2014 nearly 70 kidnappings of U.S. citizens were reported to the U.S. Embassy and consulates in Mexico.
Little is known about the Hercules Group. In September, Mayor Salazar, dressed in military garb, introduced the unit as a select tactical security force designed to ensure the peace and security of Matamoros citizenry.
Described as "a shock group" by its commander, Joe Mariana Vega, the group is made up of former members of the Mexican military who have been tasked with gathering intelligence and executing high-risk operations.
The group is ultimately under the mayor's control and also acts as her personal security detail.
"We are all Hercules, because everyone should defend their city from the trenches," the mayor said in a press release.
Border cities in the state of Tamaulipas like Matamoros and Nuevo Laredo remain controlled largely by organized crime. The state is the headquarters for the Zetas and the Gulf drug cartels.
It is considered the third most dangerous state in Mexico after Guerrero and Michoacán.
And it has a major public corruption problem.
Last year, a former governor of Tamaulipas, Tomás Yarrington Ruvalcaba, was indicted by a federal court in the U.S. He is wanted on charges including corruption and conspiracy to launder money.
According to the unsealed indictment, he received large bribes from major drug traffickers operating in Tamaulipas, including members of the Gulf Cartel. In return, he is believed by authorities to have allowed the cartel to operate its business - including smuggling drugs into the U.S.
As for the Hercules Group, Adam Isacson, a senior associate at the Washington Office of Latin America, told FNL, "It's rare for a municipality to have [its] own elite police force. That's usually left to the federal government."
Isacson recognizes that showcasing anything that looks like its protecting local citizens is popular, but there is reason for concern when you have a secretive paramilitary police force operating with impunity in a city.
"When you have an unknown training curriculum, you don't know if the men are vetted. In a town of organized crime, whose local government has ties to organized crime, bad stuff can happen," Isacson said. "That's a recipe for a death squad."
In states like Tamaulipas that are dominated by cartels, Isacson says, the standard for municipal governments and police forces is to act more as mediators between competing cartels rather than to fight them.
Secret handshake agreements between local governments, police forces and cartels are common in an effort to keep violence off the streets.
But sometimes they backfire.
"It's not just narco-on-narco, gang-on-gang… You are seeing a lot of the trigger-pullers wearing government uniforms," Isacson said.