Scores of men in Istanbul honor perpetrators of French attacks with funeral prayers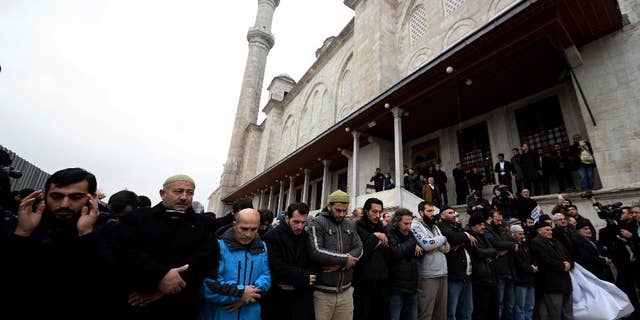 ISTANBUL – Scores of people in Istanbul held funeral prayers on Friday to honor Cherif and Said Kouachi, the gun-toting brothers who killed 12 people last week in Paris.
Some 160 people — all of them men — shouted "God is great!" They held a banner showing former al-Qaida leader Osama Bin Laden's picture on one side, and the Kouachi brothers superimposed over the Parisian skyline on the other.
Smaller posters with "We are all Cherif" and "We are all Said" were bounced up and down as the men chanted in unison.
The gathering came as French and German authorities arrested at least 12 people Friday suspected of links to the Islamic State group and a Paris train station was evacuated, with Europe on alert for new potential terrorist attacks.