Saudi says Bashir plane to Tehran lacked permit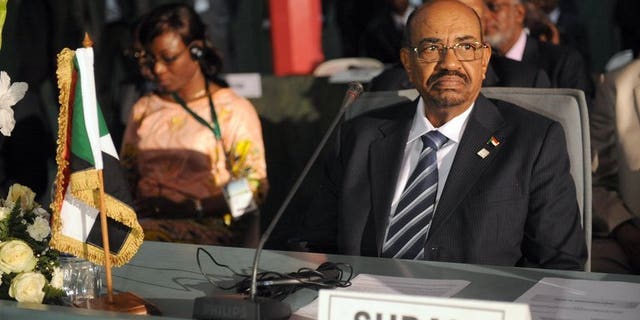 RIYADH (AFP) – A plane carrying Sudanese President Omar al-Bashir to Tehran at the weekend was blocked from crossing Saudi Arabian airspace because no prior approval had been sought, the kingdom's civil aviation authorities said Tuesday.
This was the only reason the plane was turned back, the General Authority of Civil Aviation said in a statement, countering suggestions the move was linked to international arrest warrants out for Bashir.
The aircraft carrying Bashir to attend the swearing-in of Iran's new President Hassan Rowhani in Tehran on Sunday had to turn back after being refused permission to cross Saudi airspace.
"The (Authority) denied permission to a private plane (Sunday) from crossing its airspace in a flight between Khartoum and Tehran international airports... for the lack of the needed regulatory approval," the statement said.
No prior notice was given to the kingdom's air surveillance centre and the pilot only informed the kingdom that Bashir was on board after the plane was on its way back to Khartoum, said the statement, carried by the official SPA news agency.
"No other reasons prohibited the plane from crossing the kingdom's airspace," it insisted.
Saudi Arabia, a Sunni Muslim kingdom, has repeatedly voiced fears about the controversial nuclear programme of Shiite-dominated Iran, whose warships twice docked in Sudan late last year.
Khartoum has tried to balance ties with both Tehran and Riyadh.
Sudanese presidential press secretary Emad Sayed Ahmed had said that Bashir was not flying in his normal presidential aircraft but was using a plane rented from a Saudi company.
Ahmed said that when Bashir's plane entered Saudi airspace the pilot informed authorities that it had approval "and that it was carrying Sudan's leader.
"But they said the plane didn't have permission," forcing it to return to Khartoum, he said.
The Hague-based International Criminal Court in 2009 and 2010 issued two warrants against Bashir for war crimes, crimes against humanity and genocide over the conflict in Sudan's Darfur region.
Iranian foreign ministry spokesman Abbas Araqchi was quoted by the ISNA news agency as branding the Saudi move as "very unfortunate".
Bashir underwent minor surgery in Saudi Arabia last November.