Saudi Arabia intercepts another missile launched from Yemen by Iran-backed Houthis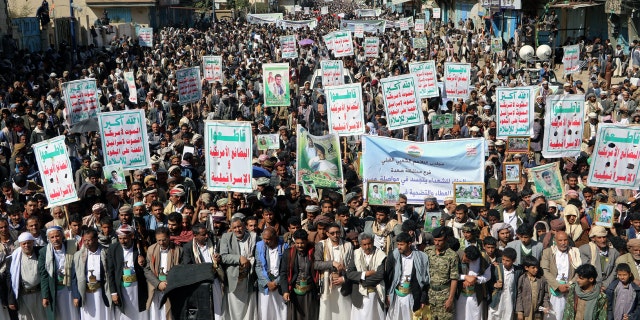 Saudi Arabia's air force intercepted a ballistic missile launched by Iran-backed Houthi rebels in Yemen, the Kingdom's military said Monday.
Col. Turki Al-Maliki, a spokesman for the Saudi-led military coalition supporting the Yemeni government, told state media that the missile was launched from Yemen's northern government of Sa'adah and targeted the city of Khamis Mushait, about 100 miles north of the Saudi-Yemen border.
Maliki accused the Houthis of targeting densely populated cities and accused the Iranian regime of violating international law by providing "tangible capabilities" to the rebel group. He also called on the international community "to hold Iran accountable for its support and blatant defiance of international norms, values, and laws."
The Houthis had no immediate comment. The group has launched dozens of missiles into Saudi Arabia since it entered the conflict in 2015 at the head of an Arab coalition heavily backed by the United Arab Emirates. Some of those missile attacks have caused casualties in Saudi border towns.
The civil war in Yemen has killed more than 10,000 people and displaced two million more. In three years of fighting, the front lines of the conflict have hardly moved. The rebels largely control the capital, Sanaa, and much of the north of Yemen. Meanwhile, the country's internationally recognized president, President Abed Rabbo Mansour Hadi, is based in Saudi Arabia and his rule is largely confined to the southern port city of Aden.
The Associated Press contributed to this report.