Saudi Arabia faces ISIS threats during transition of new king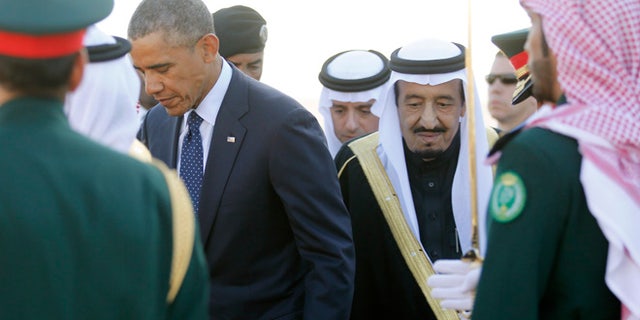 ISIS recruits from Saudi Arabia have their sights set on seizing their oil-rich homeland, and may be preparing to strike while the Kingdom's throne is changing hands, according to Middle East intelligence experts.
A division of the Islamic State, or ISIS, reportedly released a video stating its intention to invade Saudi Arabia, a powerful U.S. ally transitioning after the death of its former king. The threat was issued by a group of Saudi militants who have joined the militant group in Iraq and Syria, and also urged sympathizers inside the Kingdom to attack from within, SITE Intelligence, an organization that tracks jihadist propaganda, reported.
The grim warning underscores the terror organization's desire to annex the Middle East's wealthiest nation, said experts, as well as the country that is home to the most holy site in the Muslim world, Mecca.
"It's kind of difficult not to think of Medina and Mecca as the Islamic militants' biggest prize," Toby Matthiesen, a research fellow at the University of Cambridge and author of "The Other Saudis," told FoxNews.com. "Maybe Jerusalem, but if its goal is to re-establish the caliphate, those cities are important."
'It's kind of difficult not to think of Medina and Mecca as the Islamic militants' biggest prize'
Islamic State, which claims a caliphate that stretches across parts of Iraq and Syria, has recruited thousands of fighters from Saudi Arabia, and has indicated before its designs on the Kingdom. Newsweek, citing a Twitter post by a popular anti-Saudi user, reported that a small group of militants staged a late-night attack this week on a border position and claimed to reach the northern town of Rafha. There has been no official confirmation of the attack, but there appears to be a social media war playing out between the Kingdom and militants.
"They (ISIS) will always exaggerate," Charlie Winter, a researcher at the think tank Quilliam, told the magazine. "But I have not seen something like this completely pulled out of the bag before."
Saudi Arabia faces Islamic State militants on its northern border with Iraq, and unrest to the south in Yemen, where several terrorist and rebel groups are well established and recently seized the president's palace. The regional tumult comes even as the Kingdom made a swift transition after the death of King Abdullah on Jan. 23. The nation wasted no time in announcing the king's successor would be 79-year-old Salman bin Abdul-Aziz Al Saud, Abdullah's half-brother.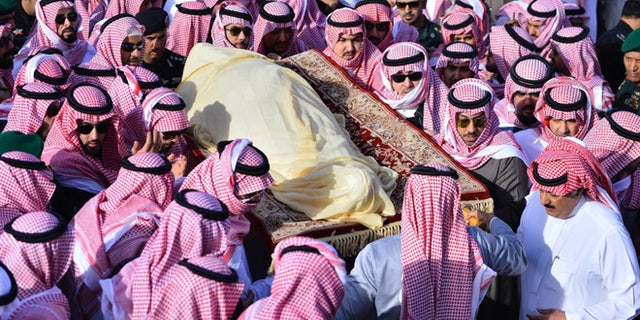 "It was done with a masterstroke," Jim B. Smith, President Obama's former Ambassador to Saudi Arabia, told FoxNews.com. "They took all the drama out of the transition and essentially said, 'Don't worry. Everything's stable here at the top for the next 20 years.'"
Saudi Arabia is seen as a key U.S. ally in the region and, besides its oil wealth, has provided air support in the fight against Islamic State. The relationship is so important, Obama cut his India trip short this week and led a high-level delegation to pay respects to Abdullah and meet with the new king who greeted him upon his arrival at the Kinhg Khalid International Airport in Riyadh.
Aaron David Miller, a vice president at the Woodrow Wilson Center for Scholars, wrote in The Wall Street Journal, "Terror threats are the only thing that possibly trumps oil when it comes to U.S. interests. And the rise of Islamic State; Al Qaeda's resurgence in the Arabian peninsula; and the growing terror sanctuaries in Yemen, Iraq, and Syria mean that the U.S. needs local allies."
Matthiesen and Smith both said Islamic militants would have a difficult time advancing on the Kingdom, which has a capable air force and standing military.
"If they (ISIS) see the transition of leadership as vulnerability, it would be a big mistake on their part," Smith said.
Saudi Arabia has a well-trained army and a first-rate air force, he said. He said the country has been successful since 2003 in undermining extremism. He said the country has about a 50-50 divide between those who are religiously conservative and those who seek modernization.
The Kingdom also started to build a 600-mile wall along its northern border with Iraq.The Jerusalem Post reported that the border zone will feature five layers of fencing, watch towers, night-vision security and troops.
"Saudi Arabia would prove very effective if attacked," Smith said.
The Associated Press contributed to this report