S. Korean presidential hopeful accused of anti-gay comments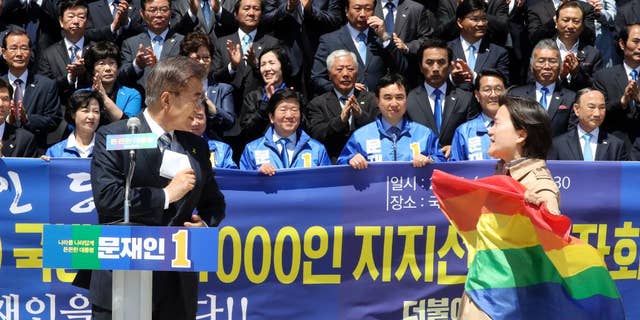 NEWYou can now listen to Fox News articles!
SEOUL, South Korea – South Korean presidential front-runner Moon Jae-in has outraged persecuted sexual minority groups by saying during a television debate that he opposes homosexuality.
Moon, a liberal candidate and former human rights lawyer, made the comments Tuesday night while responding to a conservative presidential candidate who argued gay soldiers were weakening the country's military.
Moon's response follows recent accusations by a watchdog group that South Korea's military has been hunting down and prosecuting gay servicemen. That allegation raised worries of more discrimination and hate crimes against sexual minorities.
In conservative South Korea, LGBTQ people are harshly stigmatized and struggle with political visibility because a powerful Christian lobby keeps politicians from passing anti-discrimination laws.