S. Korea Cancels New Artillery Drill on Tense Island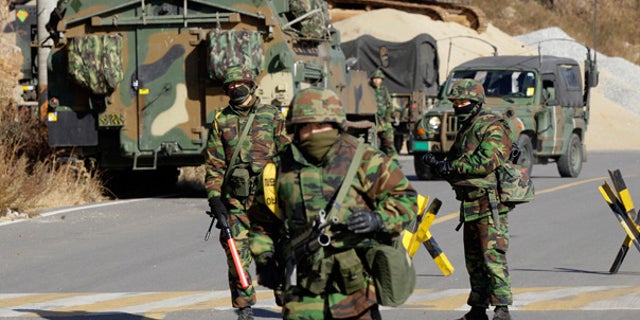 SEOUL, South Korea -- South Korea's military said Monday that new artillery drills planned for the front-line island targeted in last week's deadly North Korean bombardment were postponed, hours after authorities on the island announced the exercises.
Similar live-fire maneuvers by South Korean troops one week earlier triggered the North's bombardment that decimated parts of Yeonpyeong Island, killed four people and drew return fire in a clash that set the region on edge.
The new drills originally planned for Tuesday could have had even higher stakes: South Korean and American warships are currently engaged in separate military exercises in nearby waters.
Officials at the Joint Chiefs of Staff told reporters Monday that the latest drills were postponed, saying that the marine unit on the island mistakenly had announced the drills without getting approval from higher military authorities. They spoke on condition of anonymity, citing agency rules.
The cancelation has nothing to do with North Korea and the drills will take place at a later date, one of the officials said.
Earlier Monday, President Lee Myung-bak gave his first address to the nation since the attack, taking responsibility for failing to protect his citizens, expressing outrage at the North's "ruthlessness" and vowing tough consequences for any future aggression.
Later on Yeonpyeong island, authorities announced new drills — including live-fire exercises — for Tuesday morning, and issued a warning over loudspeakers for residents to take shelter in underground bunkers. A later public address announcement said there would no live-fire exercise.
The North's artillery attack last week also wounded 18 people on an island that lies within sight of North Korean shores. North Korea had called the drills a violation of its territorial waters and a deliberate provocation after Pyongyang urged South Korean officials not to carry out the exercises, and has warned of a "merciless" attack if further provoked.
Meanwhile, a nuclear-powered U.S. supercarrier and a South Korean destroyer carried out joint military exercises in the waters south of the island in a united show of force by the longtime allies. Jets roared as they took off from the carrier.
Amid the heightened tension, classified U.S. State Department documents leaked Sunday by online whistle-blower WikiLeaks showed the United States and South Korea discussing possible scenarios for reunification of the peninsula, and American worry over Pyongyang's nuclear weapons program.
Under pressure to take stronger action in dealing with the defiant North, Lee lashed out at Pyongyang.
"Only a few meters away from where shells landed, there is a school where classes were going on," Lee said. "I am outraged by the ruthlessness of the North Korean regime, which is even indifferent to the lives of little children."
Lee has come under withering criticism for what opponents have called lapses in South Korea's response to the attack just eight months after the sinking of a South Korean warship in nearby waters.
In the past week, Lee has replaced his defense minister, ordered reinforcements for the 4,000 troops on Yeonpyeong and four other Yellow Sea islands, and upgraded the military rules of engagement.
"If the North commits any additional provocations against the South, we will make sure that it pays a dear price without fail," Lee warned.
He didn't offer specifics about what consequences the North would face, and he offered few details on what actions South Korea will take in response to last week's attack, other than promising to strengthen the military.