S.Africa's fuel attendants strike off to slow start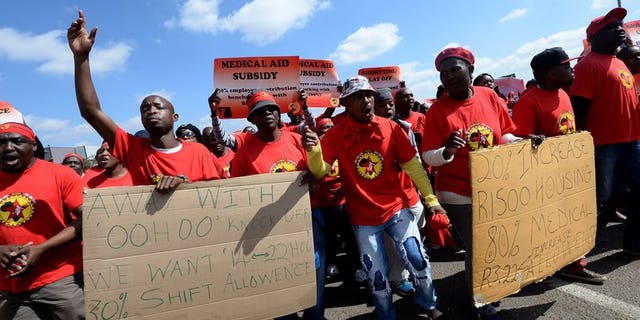 JOHANNESBURG, Gauteng (AFP) – A strike by South African petrol station attendants got off to a slow start Monday despite their union calling for them to join a wave of stoppages over wages sweeping the country.
Most fuel stations in the economic hub of Johannesburg were open and workers, without their uniforms, filled up car tanks.
The National Union of Metalworkers of South Africa (Numsa), which represents around a third of the sector's employees, had called on fuel station attendants and mechanics to walk off the job after wage talks collapsed.
Fuel attendants earn around 700 rands ($70, 53 euros) a week, according to Numsa, which is calling for a "double-digit" increase.
The labour group said Monday attendants had been intimidated to work.
"Those workers at work today are being threatened by their employers," spokesman Castro Ngobese told AFP.
"We are doing everything to make sure workers come out in their numbers," he added.
They were due to march to the offices of the fuel and motor industry retailers in Johannesburg and Cape Town to hand over a memorandum.
Non-striking petrol attendants wore plain clothes to avoid intimidation from strikers, which can often be brutal and even deadly.
The new strikes come as tens of thousands of workers in the auto manufacturing and mining industries ended their work stoppages.
Car makers returned to work Monday after a 21-day stoppage, while gold mining workers called off their industrial action within days of refusing to go underground.
Harmony Gold, the last mine with stoppages, announced Monday "that operations at all of its mines were normalised" after workers accepted an 8.0-percent increase.