S.Africa's controversial Malema launches party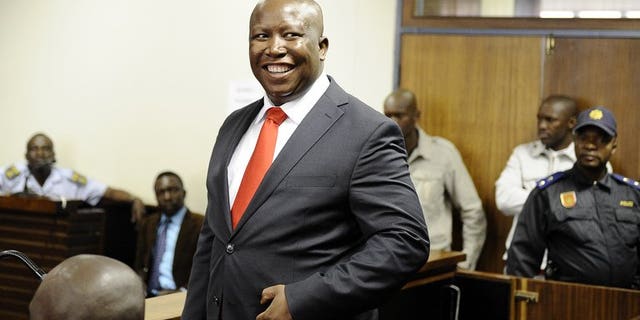 SOWETO, South Africa / Gauteng (AFP) – Populist politician Julius Malema launched South Africa's newest political party Saturday to take on his former party, the ruling African National Congress (ANC), in polls next year.
Malema's leftist Economic Freedom Fighters (EFF) held its first general assembly in Soweto, the Johannesburg township which was a hotbed of resistance against white minority rule.
A few hundred supporters sporting the EFF's trademark red berets filled a community hall, singing liberation songs and waving flags before they discussed the party's manifesto in a closed session.
Some voiced frustrations at the ANC, which they accuse of doing too little to reduce poverty and create jobs since it came to power in 1994.
"Twenty years of freedom is too much. Now we are free but we don't enjoy the freedom because we are not working," said Tsepo Morupane.
Another party member denounced corruption in the ANC government.
"In the ANC... we are not going anywhere. That's why today we are gathered here -- so that we can go forward," said Andries Leduwaby.
The EFF wants to expropriate white farms and nationalise the mining industry, a cornerstone of Africa's largest economy -- without compensation.
"The seller must be forced to sell, and if the seller is not willing to sell we will take," Malema said in his opening address to the assembly on Friday night.
"People are saying we are chasing away investors... tell them that is the whole intention because we want to produce local investors," he added.
The 32-year-old firebrand leader, known for his radical statements, pushed for the ANC to adopt the policies when he was still its youth leader.
The ruling party expelled him for ill-discipline early last year and decided against expropriation and nationalisation at its December conference.
Malema started the EFF movement earlier in July, when he said the group "should be a radical left, anti-capitalist and anti-imperialist movement".
Notorious for his extravagant lifestyle, he is now fighting fraud and tax evasion charges.
Two of his houses were sold in forced auctions to cover unpaid taxes, while his farm has also been seized.