S.Africa mining firms recognise militant union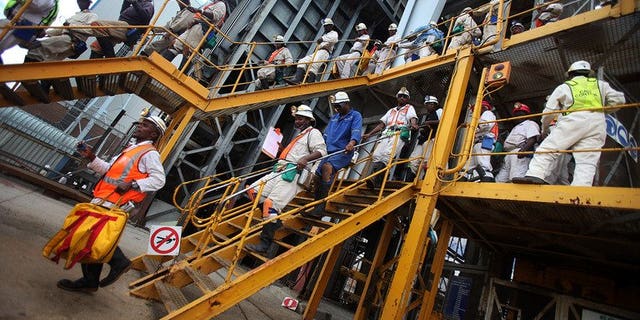 JOHANNESBURG, Gauteng (AFP) – Two of South Africa's leading mining companies on Friday named a hardline union as the largest grouping at some facilities, raising hopes for an end to months of labour unrest.
Impala Platinum, the world's second largest platinum producer, and Sibanye Gold granted majority status to the Association of Mineworkers and Construction Union (AMCU), allowing it to participate in the bargaining processes.
Mining companies portrayed Friday's move as a step toward bringing AMCU into the negotiating process and ending a series of wildcat strikes that have crippled the sector.
The upstart union has been in a heated battle with the National Union of Mineworkers (NUM) for members and status across the country.
That rivalry, and a refusal of mining firms to recognise AMCU, has sparked violence that has rocked the industry ever since 34 striking workers were shot dead at Lonmin's Marikana mine in a single day last August.
"We believe this is a step in the right direction, AMCU now represents 55 percent of the labour force at our Rustenburg operation," said Implats spokeswoman Alice Lourens.
Sibanye Gold, formed last year after the unbundling of Gold Fields assets, said AMCU's upgraded status at its Driefontein facility would bring a new voice to the industry.
"We look forward to establishing good relations with them, they have satisfied all the requirements set by the company," said spokesman James Wellsted.
But tensions with the NUM are likely to remain at some facilities.
AMCU claims to represent 70 percent of workers at Lonmin Platinum, where the Marikana tragedy occurred.
NUM has launched legal action claiming that AMCU has inflated its membership numbers.
Lonmin mine bosses want an independent audit of their membership before granting it recognition.
In the meantime, murders and illegal strikes have been frequent occurrences at Lonmin mines, forcing the closure of NUM offices.
AMCU was not immediately available for comment.